Happy Bonfire night! Why not try your hands at this fun bonfire stick bread from Richard Skrein's new book Fifty Things to Do With a Stick. Fun, easy and perfect for the whole family.
This is my recipe for a delicious bready treat on the campfire, with no measurements and no nonsense! It's fun to experiment with adding ingredients into your dough too – how about foraged herbs or cheese for a savoury stick bread? Or sugar and cinnamon for the sweet-toothed? You're going to love it.
Find long, straight sticks – any non-toxic wood will do. Hazel works well as it grows naturally in long, straight lengths. Strip the bark off the end of the stick. Oh, and get the fire lit too – you'll be cooking over the embers, not leaping flames.
It's time to make the dough. Wash your hands. Then mix two mugs of flour and a big pinch of salt in a big bowl. Pour in a tablespoon of olive oil and a splash of cold water and mix with your hands. Knead, adding a little more water if necessary, until you have a smooth, firm dough. A teaspoon of sugar, a tablespoon of baking powder and/or an egg can also be nice additions to this, as can other non-wheat flours, so get experimenting.
Dust your hands in flour and roll the dough into little balls. Stretch one into a long, thin sausage shape and twist it around the bark-free end of your stick, leaving small gaps and pinching the dough together at the bottom. Hold it over the glowing embers and rotate your stick to get a nice and even brown crust on the outside.
Tear your bread off in strips and dip it in yoghurt, jam or chocolate spread. Or you could slide the bread off whole and put a sausage in the middle!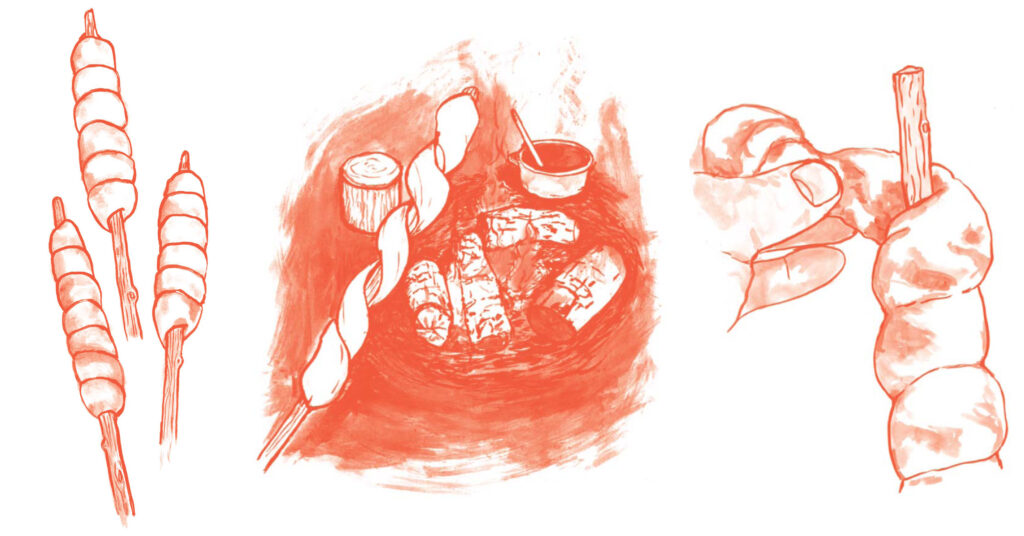 Fifty Things to do With a Stick by Richard Skrein is out 10th November. Order it here.