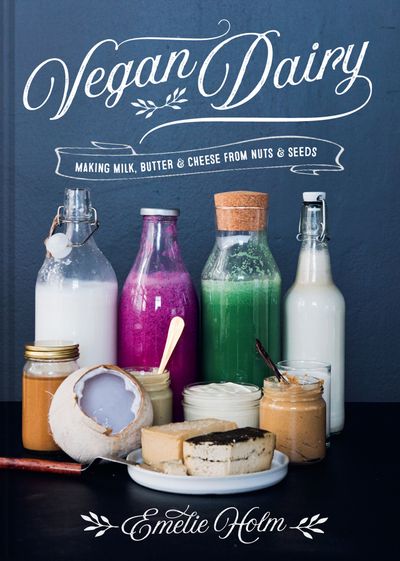 Vegan Dairy: Making milk, butter and cheese from nuts and seeds
By Emelie Holm
From fresh plant-based milk to artisanal vegan cheese, from silky yogurts and creams to delicious nutty spreads and dips, join the new food revolution and learn how to make delicious, dairy-free products at home with this fabulous vegan cookbook.
Regardless whether you are vegan, lactose-intolerant or just want to eat healthier for the sake of your own body or the environment, this book will help to reinvigorate your cooking. Using only plant, seed, grain or fruit-based ingredients, Vegan Dairy will enable you to take full control of your nutrition and diet, and help you to avoid unnecessary additives. Many of the recipes are very easy to make and the ingredients can be sourced in your local supermarket. In addition to the countless health benefits to making your own vegan staples, you can create batch quantities and save money.
With recipes like pistachio and spirulina milk, macadamia ricotta, coconut kefir drink and vanilla and pecan butter, diversify your cooking with these vegan delights.