Grounded and honest (and a little bit sweary), Hasan Semay (a.k.a. Big Has) is a bright and talented North-London based chef and YouTube presenter. Having dropped out of school and tried his hand at odd jobs from plumbing to security, Has was accepted onto the prestigious Jamie Oliver "15" programme in 2011 which unearthed a true passion and flair for cooking. HOME is his debut cookbook and a celebration of the dishes, the places and the people that have made him who he is today.
Big Has HOME is the Jamie Oliver's Cookbook Club pick for September 2022.
Here's one that everyone gets wrong. We grew up on carbonara sauce out of a little plastic bottle and Mum would just cut in some ham and serve it with garlic bread, like I feel every other British household does. What is our obsession with serving Italian food with store-bought baguettes filled with mystery green butter and forgetting about them in the oven?! Anyway, this is carbonara done properly. Shout-out to the Romans.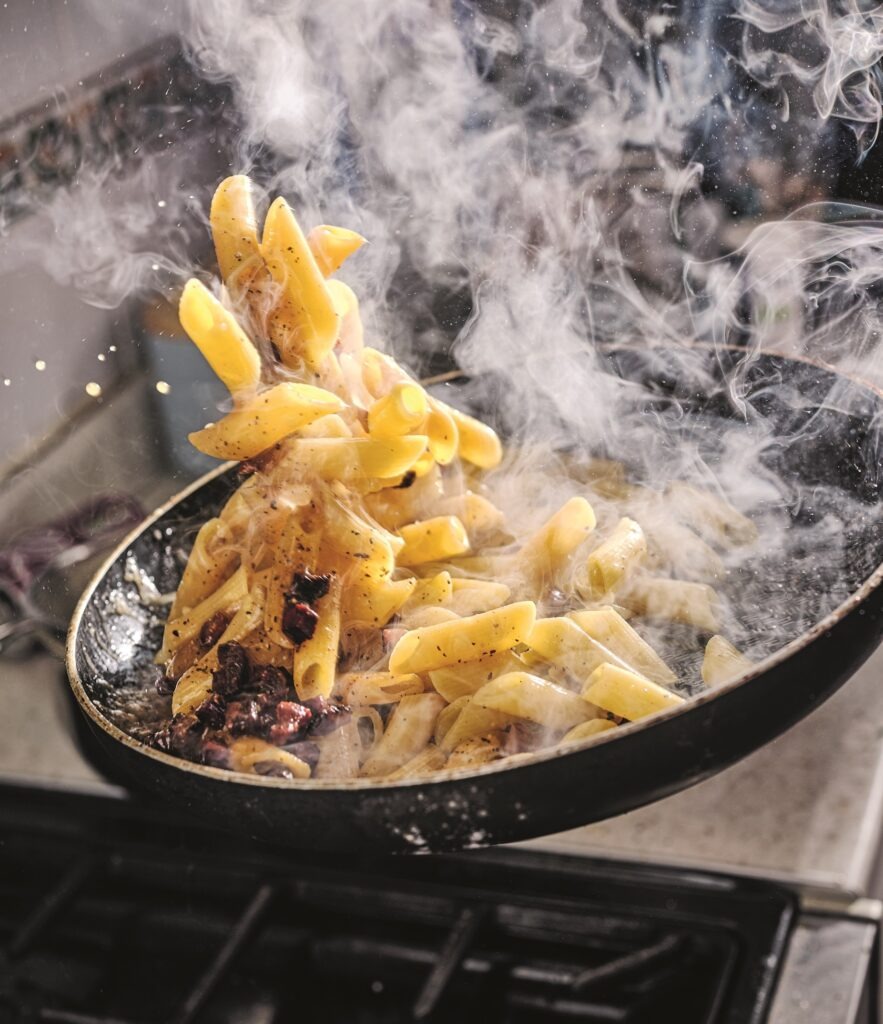 SERVES 2
100g/3½oz guanciale, cubed
2 egg yolks
30g/1oz Parmesan cheese, finely grated
1 teaspoon freshly cracked black pepper, plus extra to serve (optional)
250g/9oz penne
salt
Start off by bringing a pan of salted water up to a rolling boil.
Slowly render the guanciale in a cold pan over a medium heat.
The guanciale will become glassy as it renders – we're looking
for it to colour on all sides, but we don't want it to go
completely crispy. Just give it a nice little golden suntan.
Add the egg yolks, cheese, and pepper to a bowl. Don't worry
about mixing them, just leave them be.
Cook the pasta for a minute less than the packet instructions,
keeping the guanciale warm without burning it.
Turn the heat up to high on the guanciale, add in your pasta and
a few spoons of pasta cooking water. Toss the pasta and the
guanciale together so the pasta water thickens with the fat from
the guanciale. Do this over a high heat; I don't add the eggs and
cheese to the pan because I feel like it's tempting fate.
Add the pasta and guanciale to the bowl with the eggs and
cheese. Add a little spoon of pasta water and stir the whole
thing together until smooth and silky. If you feel like your sauce
is too wishy-washy, add it to the pan and toss it. The residual
heat in your pan will thicken the sauce.
I like to serve my carbonara loose but silky; if the sauce is too
thick the pasta will go cold too quickly and start to solidify.
I serve mine with another little crack of pepper on top.
Recipe from Big Has HOME by Hasan Semay, available in bookshops now
Photography by Haraala Hamilton