There is a long tradition of painting rooms to provide a record of grand homes, giving an insight into the life and times of previous generations. Today there is a resurgence of interest in our living spaces, but there is no book in the tradition of illustrated room portraiture to inspire you. SJ Axelby's Interior Portraits will take you into multiple unique and colourful homes, seen through the artist's eye.
Read on for an extract, offering a glimpse of Sophie Conran's living space.
Wonderful Sophie is a British household name and the creative director of Sophie Conran Shop, emporium of charm and delight. Sophie is a lover of motherhood, gardening, cooking, hosting, travelling, giggling with friends, rummaging in antique shops and walking in nature. Creative genius runs in Sophie's blood and she has developed this across many industries from millinery to food, interior design to fashion, publishing to retail. This fairy-tale room with its frosting-pink walls and painterly art captures the light, charming side to Sophie's home. It was sublime to paint and to find out a bit more about someone I've admired for years.
On the sofa with Sophie
Describe your favourite everyday china: My favourite is my china with Portmeirion; I am very lucky to work with them to create a china pattern that is loved by so many around the world. I use it every day and it has a serene charm to it.
What's your favourite colour combination right now: Definitely pink and yellow like rhubarb and custard – it's just delicious.
Describe your style: Romantically, comfortably old-fashioned.
Happy place: Somewhere in the flowerbed weeding.
Destination that inspires your work: The ceramics rooms at the V&A, a treasure trove of form, function, pattern, culture and history.
Favourite patterned fabric at the moment: Our Provence voile tablecloth and napkins. Its beautiful, rich colours are like a fantasy garden filled with exotic flowers.
Tell me something not a lot of people know about you: My real name is Henrietta Sophia, but I've been called Sophie all my life. Parents are odd creatures.
Object you use every day: A string of pearls – a gift from my mother.
Favourite bloom: It is a rose called Lady of Shalott.
Tip for styling a table: Candles and flowers – as many as you can, with abandon.
Describe the perfect weekend: Lots of friends, walking, Scrabble, eating lots of vegetables from the garden, watching a great movie, a pub lunch and a little bit of snuffing in an antique shop.
What aspects of nature inspire you most: That is an impossible question! I'd need several libraries of books to even scratch the surface. Each moment brings a different type of inspiration, it depends on my mood and it depends on the mood of nature – the season, weather, time of day. At this very moment, the autumn sun is shining through an olive tree in the garden, creating a beautiful silhouette pattern. Nature is infinitely inspiring, and you just need to be open to it.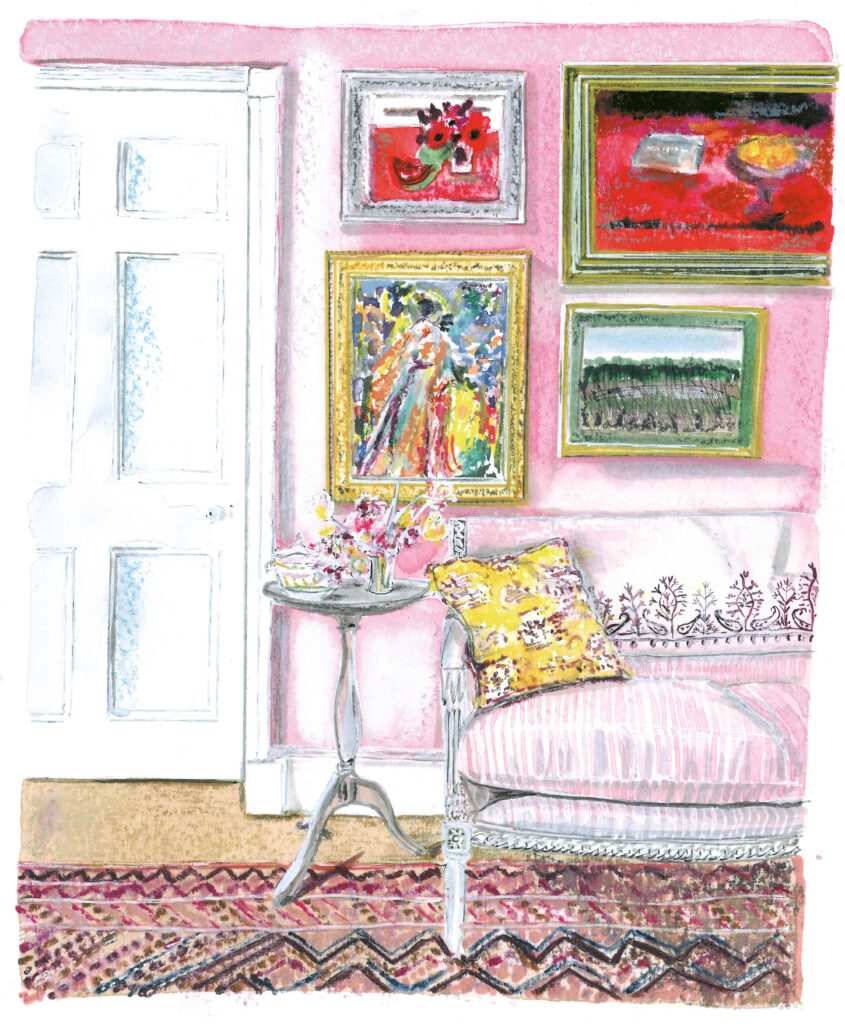 To celebrate the publication of SJ Axelby's Interior Portraits, Choosing Keeping are launching a bespoke watercolour palette to match the book. The paints will be launched at a drinks reception and book signing event on Friday 21st October, 5-7pm at 21 Tower Street, London, WC2H 9NS. The event is open to all, no tickets are necessary, and SJ Axelby's Interior Portraits will be on sale there.
SJ Axelby's Interior Portraits is out now.