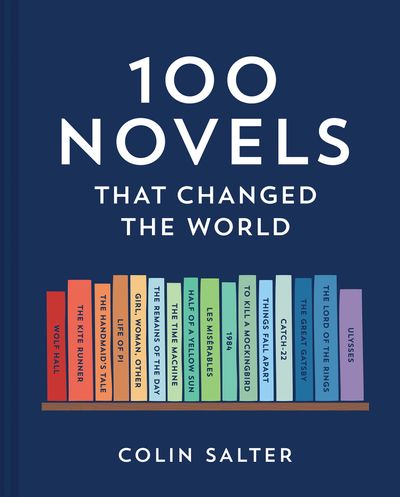 100 Novels That Changed the World
By Colin Salter
The inspiring novels that have left a significant mark on the world of literature and popular culture.
Before the novel, the world of books was dominated by scientific tomes, religious tracts and histories of the victorious in war. There had been stories and epic poems from ancient times – Homer's Iliad and Odyssey recounted ancient Greece, and Sir Gawain and the Green Knight was a chivalric romance in Middle English, but it was not until the seventeenth century, when the European middle classes had money and leisure, that anything so frivolous as a novel could be sold for entertainment.
Colin Salter traces the evolution of the novel from the earliest examples through to the postmodernist best-sellers of the 21st century. Rather than dwelling too long on the technical nuances of innovative writing style he has amassed 100 of the greatest novel writers and chosen their most significant work.
For writers such as Herman Melville, James Joyce or Harper Lee the decision is not a difficult one. For Charles Dickens, Salman Rushdie and Margaret Atwood, the choice is perhaps more difficult.
Following the style set with previous books in the 100 series, most notably 100 Children's Books and 100 Science Discoveries, each author is given a concise biography and their major novel analysed and then set in context with their other published work.
Readers can become ridiculously well-read in 224 pages.
Authors included: Alexandre Dumas, Daniel Defoe, Victor Hugo, Mary Shelly, Charles Dickens, Mark Twain, Emily Bronte, Gabriel Garcia Marquez, Hilary Mantel, Jane Austen, Robert Louis Stevenson, Walter Scott, Edgar Allan Poe, Lewis Carroll, JRR Tolkien, Harriet Beecher Stowe, Henry James, Harper Lee, Erich Maria Remarque, James Joyce, Ernest Hemingway, William Faulkner, Erica Jong, Margaret Atwood, Truman Capote, Alice Walker, Jules Verne, HG Wells, Virginia Woolf, Stephen King, Gustave Flaubert, Leo Tolstoy, Louisa M. Alcott, Arthur Conan Doyle, Bram Stoker, John Steinbeck, CS Lewis, Chinua Achebe, Jack Kerouac, John Le Carre, Arundhati Roy, Mila Kundera, Joseph Heller, Harper Lee, JD Salinger, Alexander Solzhenitsyn, Fyodor Dostoyevsky, Miguel Cervantes, Graham Greene, F. Scott Fitzgerald, George Orwell, John Steinbeck, Evelyn Waugh, Robert Graves, Daphne du Maurier, Agatha Christie, PG Wodehouse, Raymond Chandler, Hunter S. Thompson, Khaled Hosseini.