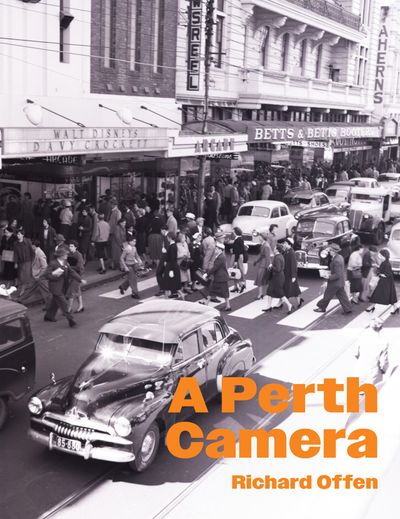 A Perth Camera
By Richard Offen
A Perth Camera is a treasure trove of rediscovered images by the late Ernie Polis from a lifetime spent photographing the city.
Following his high-profile success with Perth Then & Now and Lost Perth, Richard Offen was contacted by the son of the late Ernie Polis, the long-time Perth City Surveyor.
Ernie had been both a keen amateur photographer (and in his role as surveyor had access to some great viewpoints) and a collector of historic photos of the city. 
This trove of previously unpublished images give a unique view of the city from the 1950s through to the 1990s. Richard Offen has assembled the photos into themed chapters, sometimes revealing aspects of buildings that not even Heritage Perth were aware of.
Along with Richard's insightful captions, the photos show both what was lost and give a Then and Now comparison between modern-day Perth and the one well-known to Ernie Polis.