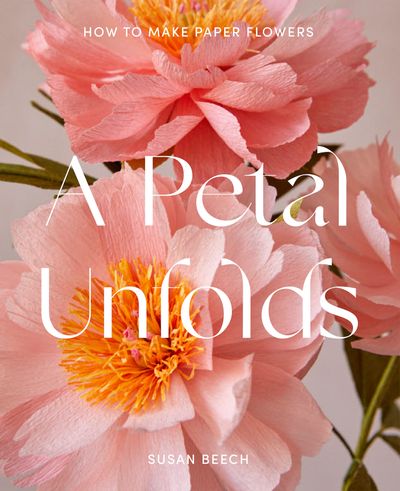 A Petal Unfolds: How to Make Paper Flowers
By Susan Beech
A Petal Unfolds is brimming with easy-to-make DIY paper flowers to bring beauty and style to your home. Susan gives you step-by-step advice so you can create something just as stunning as the real thing – but lasts forever.
Susan discusses basic materials, tools and techniques as well as tips on flower parts, colouring and painting, before guiding you through the flower tutorials. From peonies to poppies, dahlias to sweet peas, there are flowers and foliage for every aesthetic.
Includes:
Materials & Tools
Techniques
The Anatomy of a Flower & Leaf
THE FLOWERS: Anemone, Cyclamen, Crocus, Narcissus, Fuchsia, Tulip, Lisianthus, Coral Charm Peony, Bowl of Beauty Peony, Dahlia Café au Lait, Semi cactus Dahlia, Lily Regale, Cupcake Cosmos, Hydrangea, Honeysuckle, Hollyhock, Sweet Pea, Icelandic Poppy, Garden Rose, Hybrid Tea Rose.
TUTORIALS: Wild Rose Table Setting, Mini Cherry Blossom Wreath, Peony & Tulip Arrangement, Poppy Wall Hanging, Summer Mixed Bouquet.
"Not only do they look beautiful but we love that paper flowers live forever, so they're a sustainable way to keep your place decorated." – Megan Murray, Stylist