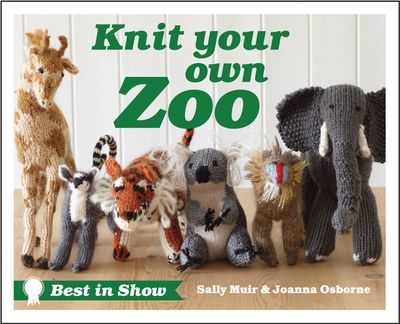 Best in Show - Best in Show: Knit Your Own Zoo
(Best in Show)
By Joanna Osborne and Sally Muir
The Best in Show series is an outstanding global success. Sally Muir and Joanna Osborne are back – this time with designs for 25 wild animals.
There is something here for everyone, with instructions for knitting spots, stripes, fur, scales, trunks, wings and beaks!
The animals are surprisingly easy to make. It will only take a few evenings to create yourself an exotic pet or reproduce your favourite species. These knitted animals in miniature are much easier to look after than the real things – they don't need feeding, they won't make a mess and they take up hardly any room.
This book is a real zoological tour of the globe with animals from all over the world. Patterns include tiger, crocodile, penguin, cheetah, anteater, ring-tailed lemur, camel, giraffe, panda and kangaroo.
Idiosyncratic descriptions of the various species accompany beautiful photography, making this book irresistible for both keen knitters and wildlife enthusiasts.