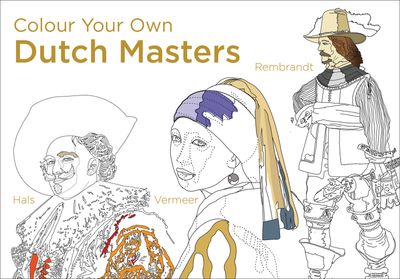 Colour Your Own - Colour Your Own Dutch Masters
(Colour Your Own)
22 intricate drawings of the most famous Dutch paintings to colour in.
In Colour Your Own Dutch Masters, 22 paintings have been included from the rich and glorious Golden Age period in the Netherlands, the period that took up the largest part of the seventeeth century. Colour Your Own Dutch Masters provides you with an opportunity of lending your own colours to works of art by Rembrandt ban Rijn, Johannes Vermeer, Frans Hals, Jan Steen, Anthony van Dyck, Peter Paul Rubens, and many others.
Alternatively, refer to the full-colour gallery in the book to match your colours and follow the paintings in every detail to Girl with A Pearl Earring or The Goldfinch. The excellent quality paper offers the possibility of colouring the plates with all kinds of materials, such as wasco crayons, colour pencils, or watercolours. Discover the magic of the Dutch Masters with this colouring book, and let them inspire you.