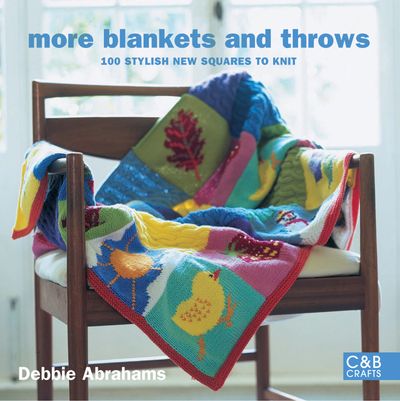 Cosy Blankets and Throws: 100 stylish new squares to knit
By Debbie Abrahams
Originally a follow-up to the outstandingly successful Blankets and Throws, the newly-reformatted More Blankets and Throws has over 100 different blanket squares that can be knitted up to create a dozen unique blankets or throws in a variety of styles.
More gorgeous blanket squares from bestseller Debbie Abrahams – there's something for every knitter in this book.
In this new edition of More Blankets and Throws Debbie Abrahams offers 100 unique blanket squares that can be combined to create a dozen stunning blankets or throws. Full instructions are given for each square, including expert advice on how to knit with several colours and how to personalize them using beads and other embellishments. Clear, step-by-step instructions show you how to piece the squares together to create each blanket, and close-up photos and clear charts mean you can't go wrong. Follow the patterns given or have fun and create your own designs using the squares. Practise a range of knitting techniques, from intarsia through to textured stitches, and create squares using clean, matt cottons and soft, hairy winter yarns. Be inspired by these beautiful projects from beginners' basics to advanced challenges.
Other titles in this series include Blankets & Throws to Knit (9781843404712), 25 Cushions to Knit (9781843405092) and Zoë Mellor's 50 Baby Bootees to Knit (9781843405078).