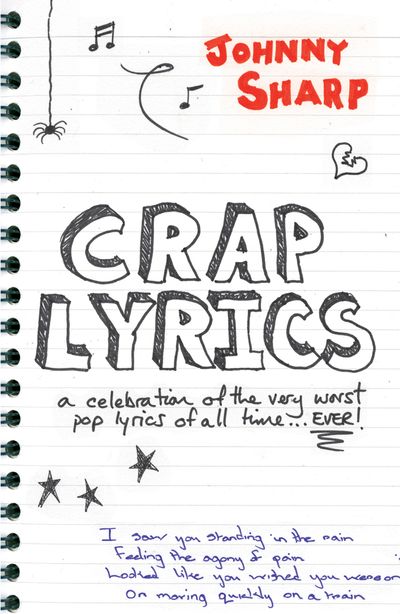 Crap Lyrics
By Johnny Sharp
Even the greatest songwriters (and Spandau Ballet) have had the odd bad day at the office. Or more likely, a bad few minutes in the studio toilets scribbling the first words they can think of on the back of their tranquiliser prescription shortly before the vocal has to be recorded.
Johnny Sharp has trawled half a century of lyrics to find the funniest examples of crippled couplets, outrageous innuendo, mixed metaphors, shameless self-delusion, nefarious nonsense and flagrant filth. Not to mention unforgivable over-use of alliteration.
Crap Lyrics is a humorous celebration (and occasionally, condemnation) of over 120 of the most ridiculous hooks, lines and stinkers from pop poetry through the modern ages. Johnny Sharp has spent 15 years as a music journalist, and several of those years writing for NME under the name Johnny Cigarettes, so he knows that ridicule is nothing to be scared of. He's serious as cancer when he asks: Are we human, or are we dancer? And where do we go from here? Is it down to the lake, I fear?
While moving like a tortoise, full of rigor mortis? Whether you're a diplomat, or even down the Laundromat, if you have ever heard a song and thought 'You what?', this is the book for you.