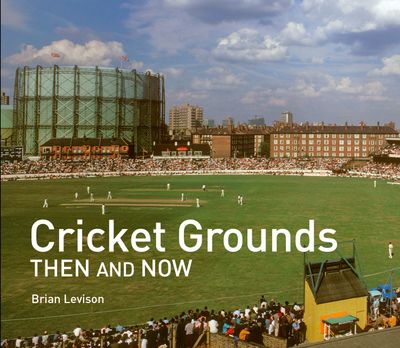 Then and Now - Cricket Grounds Then and Now
(Then and Now)
By Brian Levison
A history of beloved cricket grounds from around the world. Using a Then and Now format, historic pictures of cricket grounds are paired with their modern-day equivalent to show the dramatic changes that have taken place.
Cricket Grounds Then and Now is a history of some of the most famous cricketing venues from around the world, told through the format of Then and Now photos.
Author of the bestselling Remarkable Cricket Grounds and Remarkable Village Cricket Grounds, Brian Levison, has assembled a stunning array of vintage photos of the major Test venues such as Lord's, The Oval, Old Trafford, Trent Bridge, Adelaide and the Sydney Cricket Ground, with which are paired a modern photo from the same viewpoint.
There are smaller venues too – Saltaire in Yorkshire with its World Heritage mill as a backdrop; New Road, Worcester, viewed across the River Severn from the Cathedral and Ickwell Village Green with its large oak tree firmly inside the boundary rope.
The photos show how some features survived for decades – such as the famous scoreboard on the SCG 'Hill' – or the standing terraces at St.Helens. Some grounds, such as the Central Ground in Hastings, have disappeared altogether.
At the larger test venues in Australia, drop-in pitches are now the norm, allowing multiple use of the huge stadia, while in the UK, the county 'outgrounds' have gradually been whittled away. Yorkshire have lost Brammall Lane in Sheffield, Kent have abandoned their occupancy of Dover and Maidstone, while Essex have left Leyton in East London.
Cricket Grounds Then and Now is a nostalgic trip around the world's cricketing venues showing both massive changes across a century and occasionally (Cheltenham College) no change at all.
Grounds include: Barbados, Berlin, Scarborough, Canterbury, Wellington, Ahmedabad, Ageas Bowl, Old Trafford, Trent Bridge, The Gabba, Melbourne Cricket Ground, Hollywood, Tilford, Dublin, Chelmsford, Sydney Cricket Ground, Aigburth, Buxton, Edgbaston, Philadelphia, Worcester, Headingley, Hove, Taunton, Lord's, The Oval, Pietermaritzburg, Cape Town, Sidmouth and Singapore.