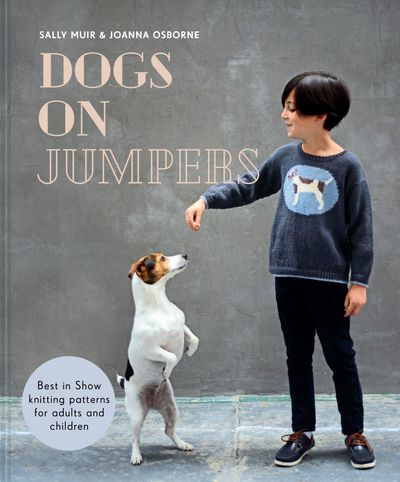 Dogs on Jumpers: Best in show knitting patterns for adults and children
By Joanna Osborne and Sally Muir
After successfully combining their two great loves – dogs and knitting – in their bestselling Best In Show books, Sally Muir and Joanna Osborne are back with a new range of knitting patterns for jumpers, accessories and baby items all featuring dog motifs.
Dogs on Jumpers pairs simplicity and flexibility with knitwear patterns for men, women, children and babies. There are eighteen featured dog breeds, each with a graph for adult jumpers, alongside 8 additional graphs tailored to child and baby jumpers. Featured breeds include Labrador, Lurcher, Beagle, Dalmatian, Pug, French Bulldog, Golden Retriever, Chihuahua, Springer Spaniel, Staffordshire Bull Terrier, Labradoodle, Jack Russell, Miniature Schnauzer, Whippet, Border Terrier, Border Collie, West Highland Terrier and Dachshund.
There are three adult jumper shapes and three child/baby shapes, each with their own master pattern: Woman's neat and boxy Raglan jumper; Woman's long and loose jumper; Man's relaxed jumper; Child's dropped shoulder jumper; Baby's Raglan jumper (suitable for 3 years and under); and an easy Baby cardigan (suitable for 6 months and under). Once you've selected the shape of your jumper, simply choose your dog motif and get knitting! You can even adapt the designs to knit your own dog onto a jumper! Play around with colours and markings, with the position of the dog on the jumper and with the shape of the background – square, oval or stripe. Among the graphs at the back of the book you'll also find an alphabet graph, so you can either make up your own dog-related phrases, or add your dog's name or initials.
With clear patterns for jumpers, accessories (including a hat and scarf), a baby blanket, a dalmatian onesie and even a dog coat, alongside advice on techniques and yarn choice, plus irresistible lifestyle photography from founder of Phodography, Ursula Aitchison, this is the perfect book for knitters and dog lovers alike.