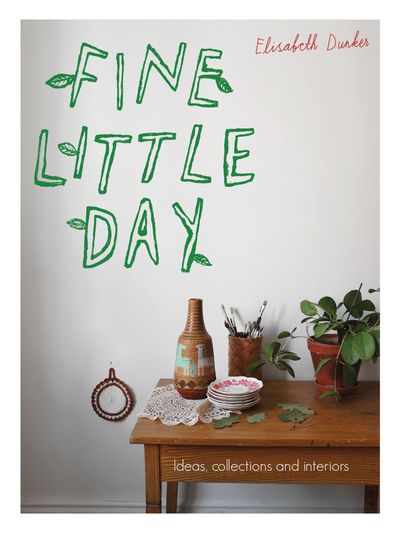 Fine Little Day: Ideas, collections and interiors
By Elisabeth Dunker
Welcome to the world of Fine Little Day. Take a peek into the fascinating life of Elisabeth Dunker. This is a woman of many talents: blogger, writer, stylist, designer, photographer and artist.
This, her first book, is filled to the brim with inspiring images of everything that she takes joy in. We meet her in the studio, where she presents her workplace and sanctuary, before she introduces us to one of her greatest loves – collecting! With colourful baskets, crochet potholders, vintage embroidery patterns, Scandinavian china and retro novels just as a start…
Next a tour of Elisabeth's own eclectic home. Bursting with colour and pattern, her Gothenburg apartment is an enviable mix of handmade blankets, vintage finds, bold printed wallpaper and fabrics, smart storage and classic Scandinavian furniture. She also gives us plenty of ideas for recreating the look, with quick and easy projects to try at home. Press flowers, re-use textiles in a patchwork, make pearl baskets, decorate wooden spoons or print a sweatshirt…
Enjoy a trip out of the city as we are shown around Elisabeth's cabin in the woods, with atmospheric pictures of the beautiful Swedish countryside and yet more decorating ideas, this time with a more rustic feel. With home tours of Elisabeth's creative friends and partners we also meet Japanese artist Mogu Takahashi, Swedish illustrator Henning Trollbäck and hear about her succesful collaboration with Swedish homewares brand House of Rym, to name a few. This inspiring book is full of pictures, fun and heart.