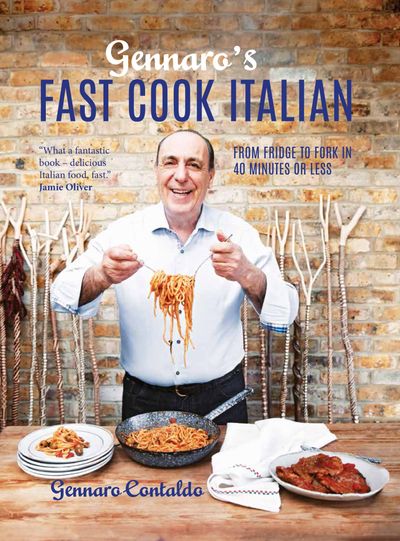 Gennaro's Fast Cook Italian: From fridge to fork in 40 minutes or less
By Gennaro Contaldo
Full of enticing, authentic and, most of all, quick-to-prepare recipes, Gennaro Contaldo's new book demonstrates how to whip up a delicious Italian feast in 40 minutes or less.
From lightning-fast risottos to perfectly pronto pastas, speedy soups and delightful desserts, these recipes showcase the very best Italy has to offer, while requiring very little time in the kitchen. Featuring food from all the major regions of Italy, these quick recipes really make the most of the amazing fresh produce for which Italy is renowned. The result is delicious, nutritious food that can be on the table in minutes – perfect for busy families or for easy entertaining.
Beginning with a handy guide to keeping your Italian larder full of the best ingredients to whizz up a speedy supper, the book is split into sections covering Soups, Salads, Pasta, Rice, Meat, Fish, Vegetables, Sauces and Desserts ensuring that you have a wealth of recipes at your fingertips. From lemon-infused steam-baked mackerel to classic pasta recipes and quick chocolate raspberry pots you can impress friends and family with a stunning menu in minutes.
'His talent for cooking and story-telling changed my life and food forever.' Jamie Oliver
'The man cooks like an angel and no ordinary angel.' Matthew Norman, Sunday Telegraph