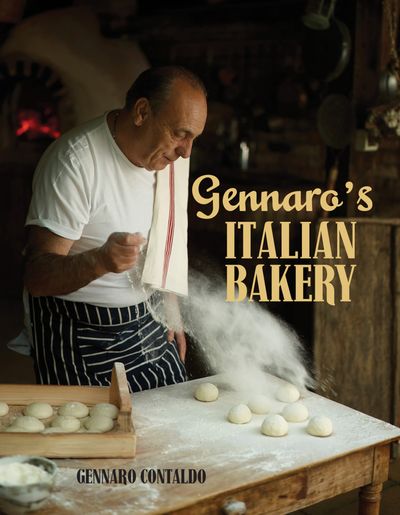 Gennaro's Italian Bakery
By Gennaro Contaldo
'Gennaro is an incredible baker – bread has always been central to everything he does. This is a great book – incredible food and full of Gennaro-style passion' – Jamie Oliver
Making bread has always been a natural passion for Gennaro Contaldo. Ingrained since childhood with memories of his mother's weekly bread-making and visits to his uncle's village bakery, it is a skill which has followed him throughout his career as a chef.
In this book, Gennaro takes you onto a journey into the magical world of Italian bread and baking, giving you his secret tips on making the perfect dough to create wonderful Italian breads for all occasions. And not only bread – have you ever walked into an Italian panetteria (bakery) and marvelled at the amazing variety of freshly baked goods? Not only filone, filoncini, ciabatta, campagnia, panini, but also amazing focaccia, pizzette, biscuits and cakes. Included will be Gennaro's fabled focaccia made in different regional varieties as well as mouth watering torte salate (Italian savoury pies) using seasonal ingredients such as spinach & artichoke oozing with fontina cheese for spring or escarole, black olives & anchovy for winter. There will be a section of rustic pane dolce (sweet breads) as well as delicious crostate (sweet pastry tarts), biscuits and traditional homemade cakes just like Nonna used to make.
This book will be the ultimate in Italian bread and baking – it will be your Italian panetteria bible where you will be able to almost smell that dreamy, irresistible aroma of fresh baking as you flick through the pages.
Word count: 55,000