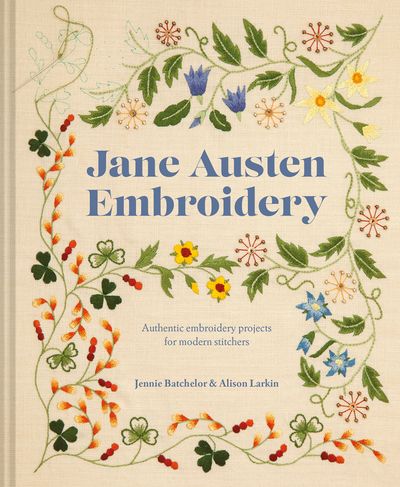 Jane Austen Embroidery: Authentic embroidery projects for modern stitchers
By Jennie Batchelor and Alison Larkin
15 beautiful embroidery projects from the era of Jane Austen.
Jane Austen was as skilful with a needle as she was with a pen. This unique book from Jennie Batchelor and Alison Larkin showcases recently discovered 18th century embroidery patterns expertly repurposed into 15 exciting modern stitching projects. The patterns and projects are brought to life with glimpses into the world of Regency women and their domestic lives by lively historical features, quotes from Jane Austen's letters and novels, enchanting illustrations and inspirational project photography.
The book opens with an illustrated introduction on historical embroidery. Next comes the materials and methods section, clearly explaining the key stitches, as well as providing information on threads, fabrics and frames. The practical section includes 15 projects for modern items. The projects are divided into three chapters according to the item the 18th century pattern was originally intended for with patterns for different skill levels:
Embroidered Clothes: Dressed to Impress: Projects include Simple Sprig Pattern (Two Ways), Pencil Case, Clutch Purse, Apron, Housewife.
Embroidered Accessories: How Do You Like My Trimming?: Projects include Napkin Set, Mobile Phone Pouch, Tablet Sleeve, Jewellery Pouch, Muslin Shawl.
Embroidery for the Home: A 'Nest of Comforts': Projects include Tea Box Top, Work Bag, Cushion, Sewing Set, Tablecloth.
It is more than likely that Jane herself would have used these very patterns for her own embroidery, and now, with Jennie and Alison's help, readers can stitch-a-long with Jane to make a selection of beautifully embroidered, practical items.