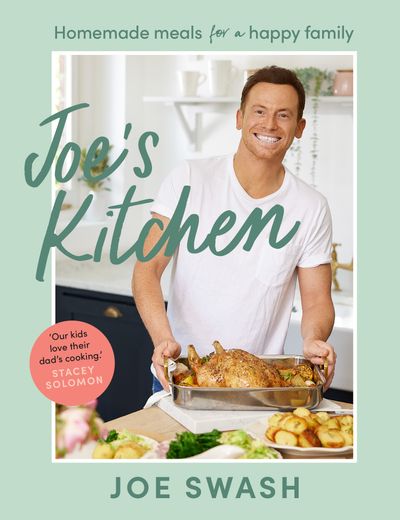 Joe's Kitchen: Homemade meals for a happy family
By Joe Swash
SUNDAY TIMES BESTSELLER
'Our kids love their dad's cooking' Stacey Solomon
'Joe is an incredibly passionate and knowledgeable cook. He cares deeply about family and brings joy to the kitchen.' Gregg Wallace
The debut family cookbook from actor, presenter, King of the Jungle and MasterChef 2021 finalist, Joe Swash.
Joe Swash grew up loving good food and the family togetherness mealtimes can bring. He's not a trained chef, but by trial and error has come up with his own ways of making great meals for his family together with his wife, Stacey Solomon, and their children at their family home.
Filled with family favourites to take you from breakfast to dinner on weekdays, weekends and for special occasions,you'll find Joe's personal twists on popular dishes such as Eggs Benedict, Steak and Mushroom Pie and Chicken Caesar Salad, as well as cheffy tips picked up from MasterChef for surprisingly simple showstoppers including Seafood Paella and White Chocolate Soufflés.
Even if you have very little experience in the kitchen, Joe's simple, straightforward recipes are guaranteed crowd-pleasers and will help you put food your family will love on the table. Filled with personal anecdotes about his own family, this book is a joyful celebration of how food can help us reconnect with memories as well as forge new ones together.
Contents
Breakfast and Brunch
Quick Meals and Snacks
Soups, Sandwiches and Salads
Weekdays
Weekends
Let's Celebrate
Puddings, Bakes and Cakes
Sides and Basics
'What I've learned is that cooking and mealtimes are not just about eating – it's about sharing love and being together, having quality time. Now I have my own family, I've realised just how vital and precious that is. By writing this book I want to give you some insight into my life and my experiences in the kitchen.' Joe Swash
"'Our kids love their dad's cooking." - Stacey Solomon