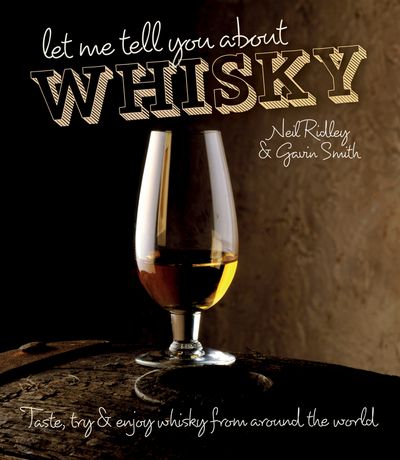 Let Me Tell You About Whisky
By Neil Ridley and Gavin D. Smith
Whisky is the world's favourite spirit and is enjoying booming sales, especially in the USA and Asia, yet too often it's shrouded in mystery, myth and complex- sounding terminology. This authoritative beginner's guide cuts straight through all of this, with simple advice on how to seek out and enjoy the immense diversity of flavours and styles on offer.
The eBook covers not just famous Highland malts, Irish pot still whiskeys and American bourbons, but also whiskies from South East Asia, Japan and Canada, as well as whiskies from many other producing countries, ranging from Wales through to Taiwan. There is advice on how to nose, taste and savour, how to organize a whisky tasting, which glassware to use, as well as a selection of classic whisky cocktails and advice on matching food and whisky. This is a true beginner's guide providing a clear insight into the modern world of whisky in a way that's never been done before.
Author Information
Neil Ridley is one of the UK's new breed of passionate young wine & spirits writers. In 2008 he developed the award-winning whisky & spirits blog Caskstrength.net with his colleague Joel Harrison. Neil writes regularly about a wide range of different drinks for drinks and lifestyle publications. He is also on the judging panel for the World Whisky Awards. In the last 18 months he has hosted over 100 different spirits-based tastings from as far afield as Japan to Lithuania.
Gavin Smith is a professional freelance journalist and author who specialises in the subjects of whisky and beer. Gavin now acts as contributing editor for www.whisky-pages.com, as well as contributing to other leading drinks magazines. He also regularly undertakes commissions for leading drinks companies and hosts whisky events. He is married and lives in the Scottish Borders.