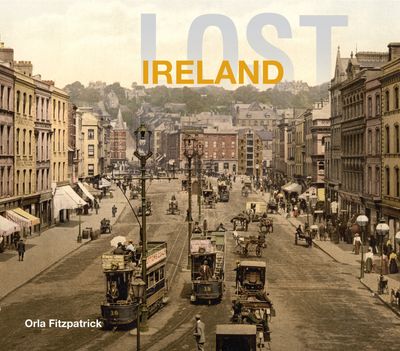 Lost - Lost Ireland
(Lost)
By Orla Fitzpatrick
Pavilion's 20-title Lost series crosses the Atlantic to chronicle some of the precious losses from across the island of Ireland.
Pavilion Books' Lost series traditionally looks at the cherished places of a city that time, progress and fashion have swept aside. However, using the new expanded 176-page format of the book, Lost Ireland covers the entirety of the island of Ireland.
Losses from all 32 counties are included from County Cork in the south to County Antrim in the north. Since the dawn of photography in the mid-19th century the economy of Ireland has changed dramatically, from a rural farming community to an upsurgent industrial and tech-savvy 'Celtic Tiger'.
Cotton mills and country markets have all disappeared along with branch railways. Gone, too are the vestiges of British rule, such as statues to Queen Victoria and the monument to the Battle of the Boyne, when William of Orange crushed James II's ambition for a Catholic throne.
On a smaller scale, the beloved theaters and cinemas from Dublin and Cork are included, along with emigration agencies, the familiar green double-deckers, the odd racecourse (a rarity in Ireland) and the ornate exterior of O'Meara's Public House in Dublin.
Sites include: Queen Victoria Statue, Nelson's Pillar, Ormond Quay 'pissoir', Portlaw Cotton Factory, Titanic shipyard in Belfast, Moorish Baths in Wicklow, Claddagh in Galway, Tipperary Arcade, Irish Hospitals Sweepstake Office, Achill Railway Terminus, Blasket Islands (abandoned), Slievemore, Salt House in Waterford, Belfast spinning mill, Queens Place in Cork, Dunscombe Fountain in Cork, Phoenix Park racecourse, Dunluce Castle (Game of Thrones), Longford Castle, and the magnificent O'Meara's Public House in Dublin.