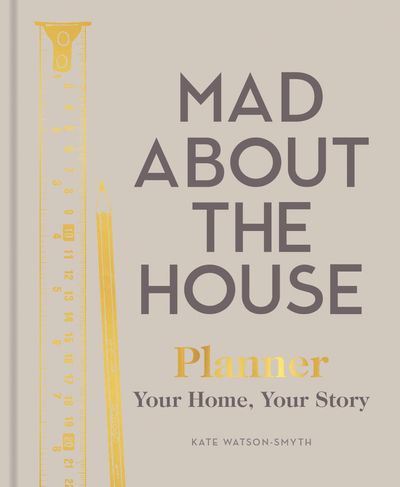 Mad About the House Planner: Your Home, Your Story
By Kate Watson-Smyth
Interiors expert Kate Watson-Smyth brings you the Mad About the House Planner for everything you need to know when renovating your home. With more and more of us working from home and spending more time in the house, it's more important than ever that our homes are adaptable and welcoming.
Packed with Kate's knowledge and enthusiasm, this journal offers you ways to renovate your home room by room, with a focus on sustainability and money-saving tips. Also included in this handy planner are accounts pages to note down what you're spending money on – and when – as you renovate, an address book for useful contacts and tradesmen, checklists for all the essentials in each room, grid pages to draw your own floorplans and space to jot down your favourite shops, inspiration and websites. Beautifully packaged with ribbon markers, this is a journal to treasure and keep a record of your home's journey.
Chapters include:
First Things First – planning your home: who will be using the space, when, where and how? Plus tips for the big move-in day
The Entrance Hall – how to create the perfect hallway; stairs, carpets and storage solutions
The Kitchen – planning the space, kitchen appliance tips and how to upscale a cheap kitchen
The Bathroom – where to spend and where to save, carrying your style into the bathroom
The Living Room – making the best use of the space, tips for flooring and rugs; buying vintage and salvaging preloved furniture
The Main Bedroom – reflecting your sleeping habits in your colour scheme, ideal storage and lighting solutions
The Second Bedroom – how to create the perfect nursery or spare room, how to adapt the room as your family grows up
The Third Bedroom – how to create the ideal room for teenagers and guests
The Home Office – working from home is here to stay, so decorate to create the best working environment for you.
Your Home, Your Lists: packed with Kate's tips for upscaling your home and go-to places, plus space to add your own favourites, make lists and budget sheets.