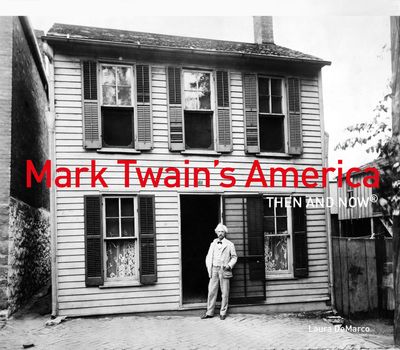 Then and Now - Mark Twain's America Then and Now®
(Then and Now)
By Laura DeMarco
A unique biography of Mark Twain featuring the cities in America where he lived, worked and visited on his many lecture tours.
Few would dispute that Mark Twain was a literary genius, a writer unique in his ability to capture the idioms of country speech, yet also write novels that appealed to the powerful East Coast literary set. He was born Samuel Clemens in Florida, Missouri, and at four years of age moved to Hannibal, on the Mississippi river. After his father died prematurely he worked as a printer's apprentice in Philadelphia, Cincinnati and New York, before settling on the career of a riverboat pilot. Training under Horace Bixby from 1857, he learnt to navigate the thousand miles of shoals, chutes and crossings between St.Louis and New Orleans
Having qualified as a pilot in 1859, the Civil War wrecked trade on the river and after two weeks as a Confederate he headed West in 1861 to find work in the silver mines of Nevada and then as a reporter in Virginia City. From there he moved to a newspaper job in San Francisco. His short story, The Celebrated Jumping Frog of Calveras County published in New York's Saturday Press gained him national attention and his career in the public spotlight was launched.
Mark Twain's America Then and Now, documents his life story from Hannibal, Missouri, through to his death in Redding Connecticut in 1910. Along with a brief biographical sketch of his career are the descriptions Twain wrote of the great American cities and their buildings – photos of these places from the 19th and 20th centuries are matched with a modern-day viewpoint, so that readers can see how many of the sights admired (or pilloried) by Twain are with us today.
After he had made his name as a writer he relived his piloting days on a journey up and down the Mississippi from St. Louis to New Orleans and back up the Ohio to Cincinnati, describing the towns and cities along the route, such as Vicksburg, Memphis and Cairo. These and many other cities from his American travels are featured in this unique book, which starts off in rural Missouri and ends at Woodlawn Cemetery in Elmira, New York, the resting place of the man many consider as America's greatest writer.
Cities include: Hannibal, Philadelphia, New York, St. Louis, New Orleans, Salt Lake City, Virginia City, San Francisco, Honolulu, Washington, D.C., Cleveland, Cincinnati, Minneapolis, St.Paul, Memphis, Vicksburg, Hartford, Boston, Redding, Elmira.