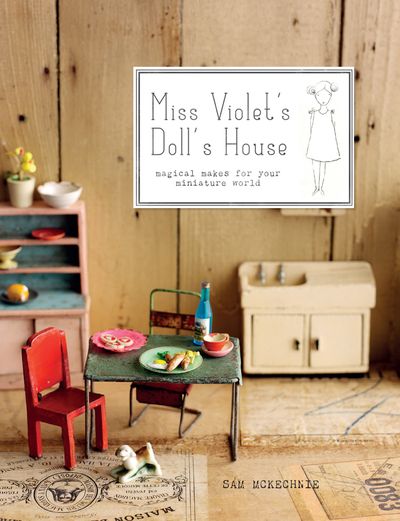 Miss Violet's Doll's House: Magical makes for your miniature world
By Sam McKechnie
Sam McKechnie's new craft book invites readers to lose themselves in the incredible world of Miss Violet.
Whether they have a doll's house, some shelf space or an unwanted shoebox, Sam has created 25 makes that are perfect for any miniature residence. In addition to the makes there will be a pop-out paper Miss Violet doll (and outfits to dress her in) at the back of the book.
Readers will also find a shoebox house project and a chapter of scraps (to photocopy or download) so that every room in their house can be embellished with fabulous paper furnishings – from cooking pots and carriage clocks to picture frames and paper pansies.
Chapters include:
Introducing Miss Violet – Meet the star of the show. Includes a wealth of ideas for clothing and accessories for readers to make themselves.
Moving in – learn how to select a home (traditional doll's house, shoebox, cupboard or shelf), make a shoebox house, and create a name plaque.
Kitchen – makes include clay food, embroidered tablecloth and bobbin table and stools..
Parlour – makes include a chandelier, fireplace and Christmas tree.
Bedroom and bath – makes include pressed flower wallpaper, playing card bath mat and a fairytale mattress.
Garden – makes include a pond, instant flower garden and clothes line.
Miss Violet's Doll's House includes everything needed to imagine and create
a miniature world.