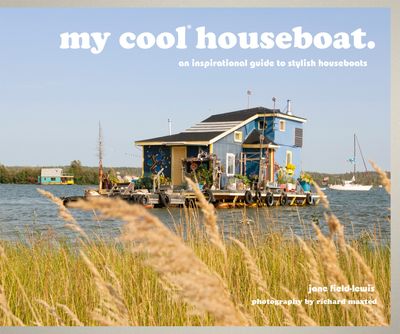 My Cool - my cool houseboat: an inspirational guide to stylish houseboats
(My Cool)
By Jane Field-Lewis
My Cool Houseboat features boats of all shapes and sizes restyled and refurbished for modern life; from canal boats and riverboats to barges and cruisers moored in marinas from Europe, North America and Australia. Not only static residential boats and floating dwellings, houseboats are now holiday homes, bookshops and vintage clothes stores.
About 15,000 people live permanently afloat on canals, rivers and coasts in Great Britain alone, but thousands more enjoy holidaying on boats or own them as weekend retreats in the UK and abroad. This book will feature not only static residential boats and floating dwellings but also those used as holiday homes and funky modern businesses – houseboats can range from canal boats, riverboats, narrow and wide beam boats, barges, Dutch barges, static houseboats and even seaworthy cruisers moored in marina. The book will cover stylish boats from the UK, North America, Europe and Australia.
The houseboats engage the reader through their history and owners' stories, which are told in lively text and colourful images. People fall in love with boats and own them for a variety of reasons: out of affordability and necessity; a love of the water; closeness to nature and the environment; or just because they yearn for a different and more relaxed style of living/working space. This book shows how houseboats can offer an attractive, practical and alternative solution, as well as amazing and often idiosyncratic solutions to living successfully in a small space.
My cool houseboat covers the following themes: stylish architectural, from San Francisco to Prague; thrifty and eclectic, as an affordable solution to conventional city dwelling; businesses, using houseboats as unusual workspaces, from a book barge to an allotment; modernist, from a Finnish floating office to an Amsterdam watervilla; recycled, ranging from an Ellis Island ferry houseboat to a converted minesweeper; and soulful, covering alternative ways of life, relaxation and recreation, from a New York City houseboat to a stylish Paris home.
Word count: 25,000