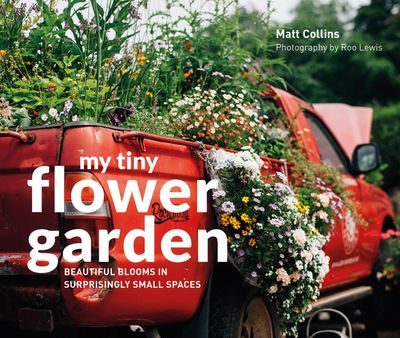 My Tiny Flower Garden
By Matt Collins and Roo Lewis
Think you don't have enough room for beautiful blooms? My Tiny Flower Garden is bursting with amazing ideas and savvy solutions to help you transform any small space into a floral feast.
With colourful cutting patches, sweet-scented city streets and pickup trucks perfect for pollinators, we've unearthed 25 amazing unconventional plots. Meet the couple packing pavements with flowers, the landscape architect who has constructed a meadow in the middle of London, and the Detroit florists who created an awe-inspiring installation in an abandoned building (before deconstructing the site and turning the land into a community flower farm).
You'll pick up all the best tips and tricks as each gardener shares their small-scale expertise, from crafty containers and sequential displays to expert advice on establishing creative community spaces. Plus, practical projects including seed bombs, a pallet planter and a homemade flower press will ensure that every inch of your space is always in bloom.
Whether you're looking for a floral fix or a bee-friendly bed, get inspired, let your imagination grow and enjoy your tiny flower garden.
Word count: 25,000