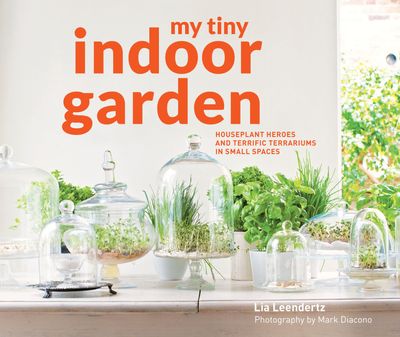 My Tiny - My Tiny Indoor Garden: Houseplant heroes and terrific terrariums in small spaces
(My Tiny)
By Lia Leendertz and Mark Diacono
Not everyone has access to outside space or what we traditionally think of as a garden, but we all have window ledges, shelves, stairways and unloved spots in our homes. My Tiny Indoor Garden is bursting with exciting ideas and savvy solutions to help you transform any indoor nook or cranny into a peaceful plant paradise.
Whether you're looking for a mini kitchen garden or a sun-loving terrarium, we've unearthed an amazing collection of indoor and covered spaces. Among the 20 gardens featured in the book you'll find a jungle in a south London sitting room, a colourful cacti collection and a conservatory come orchid house.
You'll pick up all the best tips and tricks as each indoor gardener shares their small-scale expertise, from using an array of bottles and jars to create a display of tiny botanical treasures to turning an antique chair into a lavish plant pot. Packed with practical advice, the latest title in Pavilion's exciting gardening series also provides pointers on key aspects of green interiors – from caring for leaves to propagating succulents. Plus, practical projects will help you make the most of every inch, whether you decide to master the art of kokedama or create your own terrarium.
Blur the line between your indoor space and the great outdoors, get inspired, let your imagination grow and enjoy your tiny indoor garden.