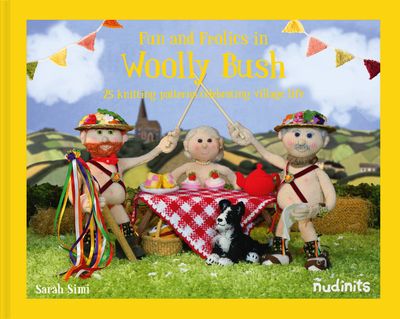 Nudinits: Fun and Frolics in Woolly Bush: 25 knitting patterns celebrating village life
By Sarah Simi
It's time to enjoy more bare-bottomed fun from Woolly Bush. Bernard and Barbara invite you to the Woolly Bush Carnival and all that entails – there's dancing round the maypole, a baking competition, vegetable growing, archery, farm animals and a dog show to enjoy.
Patterns include Jim the farmer, his dog Willie and his pig and piglets, the chickens and cockerel as well as the village Vicar and his binoculars. Packed with lots of dinky objects to create your scene – from an archery set to a Battenberg slice and even a sausage in a bap.
Bursting with British eccentricity, double entendres and a lot of village fun, this craft book will appeal to knitting fans and humour-lovers alike.