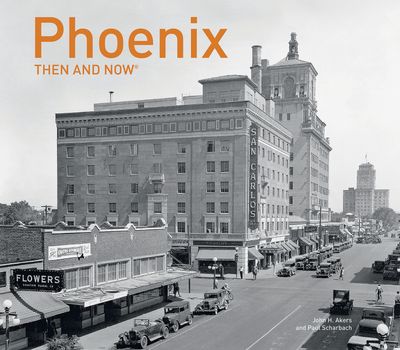 Then and Now - Phoenix Then and Now®
(Then and Now)
By Paul Scharbach and John Akers
Phoenix Then and Now takes 70 vintage photos of the city  sustained by the Salt River and compares them with the same view today
Phoenix's origins date back to 700 AD, when the area, named Pueblo Grande by the Spanish, was home to a progressive agricultural community who constructed canal irrigation systems that fed off the Salt River.
The U.S. military sparked the redevelopment of Phoenix and other towns in the Salt River valley by establishing Fort McDowell in 1865. Two years later, Jack Swilling of Wickenburg, Arizona, was traveling on horseback through the region and decided the desert setting was an ideal place to establish a new community. The name Phoenix came from the idea that, just like the bird that rose from the ashes, the new town would spring from the ruins of a former civilization.
Phoenix has grown so rapidly that several outlying towns have now been absorbed into the metropolitan district. Tempe started south of the Salt River around 1870, Mormons started Mesa to the east in 1878, and land developers founded Glendale in 1892 and Scottsdale in 1894.
Phoenix became the capital of Arizona in 1912. Phoenix Then and Now looks at the history of development in the city as it continued to grow through the twentieth century. Using archive photos of the desert town matched with the same view today, it shows that despite the rapid expansion, much of the fledgling city has been preserved.
Sites include: Washington Street, First Avenue, City Hall, Heard Building, Hotel Adams, Luhrs Building, Phoenix Theater, Orpheum Theater, Hotel San Carlos, Union Station, Masonic Temple, Hotel Westward Ho, Arizona Capitol, Kenilworth School, Grunow Clinic, Brophy College, Arizona Biltmore, Tovrea Castle, Tempe Bridges.