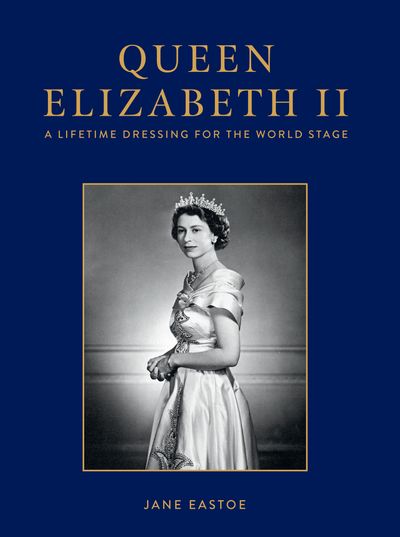 Queen Elizabeth II: A Lifetime Dressing for the World Stage
By Jane Eastoe
Exquisite and sumptuous, immaculately tailored, dignified but, above all, practical. The wardrobe of Queen Elizabeth II was as equally distinctive in terms of style as it was unique in her position. This remarkable book is a fond reflection of the days when her Majesty led the way in terms of fashion, showcasing some of the world's best designers.
At every appearance, as the world looked on, the impeccable outfits of Queen Elizabeth II were at the centre of keen discussion and excited debate. This sartorial biography celebrates Her Majesty as a much-loved and timeless style icon. Showcasing the best of the world's designers, including Norman Hartnell, Hardy Amies and Ian Thomas, it also tells us much about the times she reigned in.
Journey through the decades to discover classic designs with nipped-in waists and full skirts, strong tailored silhouettes, as well rather more floaty and relaxed styles from the 70s, all worn by The Queen, who always dressed with dignity and poise for the world stage.
Charting her progress from glamorous, wasp-waisted style icon to majestic Head of State, Queen Elizabeth II: A Lifetime Dressing for the World Stage is a tailored legacy of immaculate poise and dignified design. From the practical clothes for her beloved outdoor pursuits to exquisite and sumptuous gowns, her personal style reflected cultural and social changes over nine decades and reveals a rare understanding of the value of impeccable dressing.
With stunning formal portraits and candid photography, discover the careful work that underpinned the royal wardrobe and celebrate the legacy of Her Majesty The Queen's timeless style.
"'I will remain forever grateful for The Queen championing of the British arts and industry" - Paul Smith (Vogue UK)
"'The ultimate icon in every way. Strength, power, grace and style" - - Michael Kors (Vogue UK)
"'It was a great honour in 2018 to host Her Majesty at London Fashion Week to launch The QEII Award for British Design." - British Fashion Council (Vogue UK)
"'Her wardrobe, like her, was dependable yet dazzling and majestic, never shocking but somehow always relevant." - Bethan Holt (Grazia Daily)