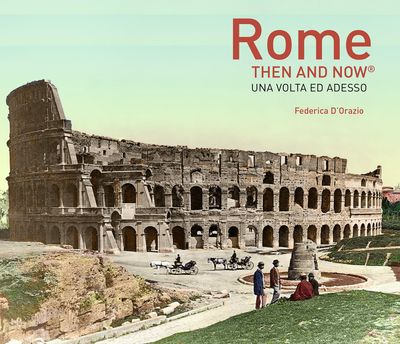 Then and Now - Rome Then and Now®
(Then and Now)
By Federica D'Orazio
A visual historical tour through all the great tourist locations of Rome, with vintage images paired with their modern-day equivalent in this compelling bilingual edition.
Rome is 'the eternal city' and was a stopping-off place on the Grand Tour long before the days of photography. 
Despite the preservation of so many classic ruins across the city, there has been significant change. Over hundreds of years of flooding, the river Tiber deposited silt across the Forum and low-lying sites. Many archive images show a completely different ground level to the 21st century view, after excavation revealed their true height.
When Mussoilini came to the power in 1922 he set about creating wider avenues and removing some of the older buildings, as can been from the changes to via della Conciliazione.
Rome Then and Now visits all the major tourist locations in the city and shows pictures of how they once were, sometimes unfenced with goats grazing amongst the ruins!
Sites include: St Peter's Square, Colosseum, Pantheon, Spanish Steps, Piazza del Popolo, the Forum, Trajan's Column, Trevi Fountain, Arch of Titus, Arch of Conatantine, Piazza Venezia, Piazza Navona, Quirinal Palace, Vittoriano, Tarpeian Hill, Palatine Hill, Circus Maximus.