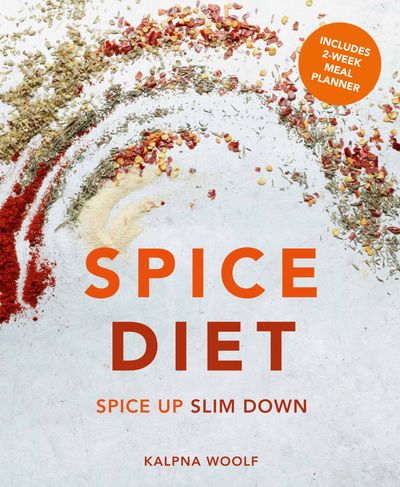 Spice Diet: Spice up slim down
By Kalpna Woolf
Spice Diet combines delicious recipes and healthy eating, using the tastes, healing powers and weight loss health properties of spices from around the world.
The book unwraps the mysteries of one of the oldest, most valued and mystically powerful food sources known to mankind and shows how spices can be incorporated into contemporary low-calorie recipes that can have a huge impact on our diets, health and wellbeing, for life.
Kalpna Woolf's healthy eating plan guarantees weight loss and improved wellbeing, whilst offering delicious recipes, featuring spices from India, South America, the Far East, Europe, Africa and the Middle East. Spice Diet reveals the top 10 spices that should be in every food store cupboard; how to combine them into versatile Spice Rubs; 100 calorie-counted recipes, including Breakfasts, Lunches, Evening Meals, Snacks and Drinks; and a helpful two-week Kick-starter Plan. Spice Diet is an essential book for any cook wanting to combine adventurous and exciting food with a long-lasting healthy lifestyle.
Chapters include: Start the day: breakfast, Simple spicetastic lunches, Effortless dinners, Meals to share and impress, Spectacular sides, Tantalising sweet treats and Drinks. There are also sections How Does it Work?, Kick-starter Plan and The Spice Directory.