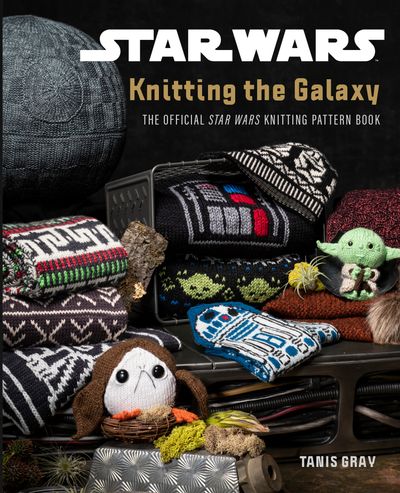 Star Wars: Knitting the Galaxy: The official Star Wars knitting pattern book
By Tanis Gray
Introducing the first official Star Wars knitting book – a deluxe guide to creating over 25 Star Wars knits based on the iconic global franchise.
A cultural juggernaut, Star Wars has enchanted audiences for over 40 years with its classic tale of Good vs. Evil. When A New Hope burst onto the screen in 1977, science fiction was reinvented for a new audience of science fiction fans and Luke, Leia and Han Solo became household names, along with the terms such as 'lightsaber', 'the Force' and the 'Death Star'. Since then it has shattered box office records for decades, pushing new technology to its limits and beyond and expanded to included spinoff films, novels, games and much, much more.
Star Wars is one of the most beloved pop culture franchises today. Now you can bring Star Wars to your home and style with the very first official knitting book celebrating the films. From knitted toys to costume replicas you can dress in Luke's Flight Jacket or Padmé's Battle Wrap and pocket your very own knitted Yoda.
Projects include:
Toys – Porg; Pocket Yoda; Chewie; Death Star
Costume Replicas – Luke Skywalker's flight jacket; Rey's waistcoat and arm wraps; Princess Leia's Hoth Snow gilet; Padmé's battle wrap
Inspired Apparel – The Order of the Jedi pullover; Ewok hood; Starfighter scarf; Lightsaber socks; TIE Fighter hat and mittens; The Millennium Falcon cowl; a galaxy far, far away mittens; Chancellor Palpatine scarf; General Leia Organa pullover; Anakin's infinity cowl; Yoda mittens; The Rebel Alliance shawl; R2-D2 mittens; Wookiee socks; Darth Vader pullover; Darth Maul mittens; Clone Trooper hat
Home Decor – BB-8 baby blanket; Droid throw pillow set; Villainous mini pullover ornaments