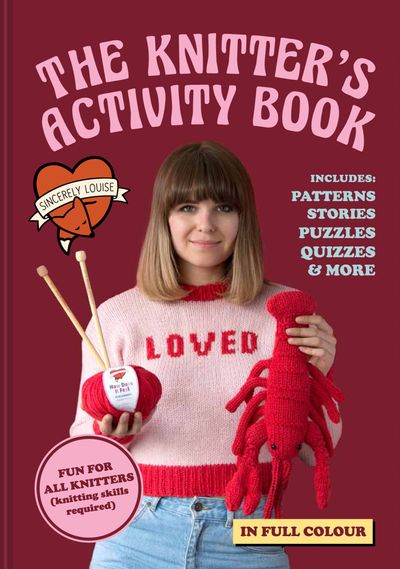 The Knitter's Activity Book: Patterns, stories, puzzles, quizzes & more
By Sincerely Louise
From a platypus scarf to a giant crocodile rug, this fabulous activity book features animal-themed knitting patterns and fun puzzles, stories and quizzes to knock your socks off.
Louise Walker, also known as Sincerely Louise, presents a selection of her favourite knits for you to try out. Including patterns for both home and to wear, this book includes mini animal trophy heads, triceratops slippers, a lion mug coaster and a giant balloon dog for you to recreate at home. Also, knit along to the 'Lola the Polar Bear Moves' comic and create a killer whale, raccoon, corgi, meerkat and a toucan, among many other adorable animals. But this book is not just packed with patterns – have a go at the crafty crossword, the 'Find the Fibre' wordsearch, The Knitter's Arms pub quiz, Louise's scrap yarn challenge, and many more.
Each project is easy to make, only using a basic range of stitches, increases and decreases, so is perfect for beginners wanting to knit something impressive straight away or experienced knitters who are looking for exciting patterns.