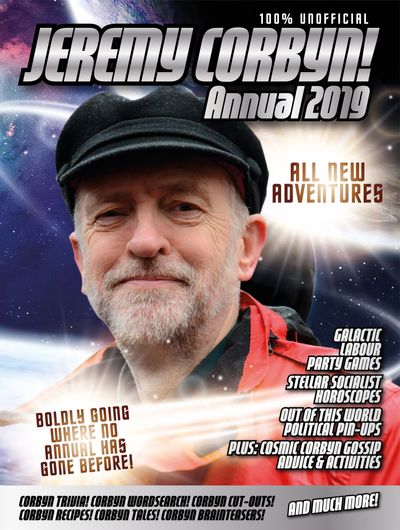 The Unofficial Jeremy Corbyn Annual 2019
By Adam G Goodwin, Dicken Goodwin and Jonathan Parkyn
Hot on the heels of last year's surprise Christmas bestseller comes a second helping of festive Corbyn fun. 
The success of Christmas 2017's Unofficial Jeremy Corbyn Annual 2018 proved two things: that the annual is a great format ripe for spoofing, and that future Prime Minister or not, Jeremy Corbyn will always have a huge and dedicated cult following.
This follow-up annual, all-new for 2019, is even more Corbyn-er, with more beards, more jam and more sensational soaraway socialist games, tips and puzzles.
Features include:
– 'Possessed by Love' photo story
– 'Jereny Corbyn and the Red Planet' story
– Jeremy's 'Agit-Pop' Balloon Game
– Left-wing beard-grooming tips
– Jezza's Celestial Party Snacks recipes
plus more masks, more quizzes, more Christmas stories and more highly kissable posters for your bedroom wall.