From crisp and zingy salads, to fresh and comforting rice bowls, and tangles of tasty noodles as well as plant-based bowls and stir fries, Bowlful will satisfy all your cravings, with 90 easy to follow recipes by Norman Musa. Try before you buy with this scrumptious recipe for wok-fried Singapore noodles with prawns.
One of many things I admire about the Singaporeans is that they are great at promoting their dishes around the world. The food has many great similarities to Malaysian dishes and this causes the occasional dispute over which country a particular dish originates from. I was once interviewed by the South China Morning Post about the origin of Hainanese Chicken Rice. As we already know, the dish originates from southern China, and the same is true of this noodle dish that was actually created in Hong Kong. I absolutely love this dish and highly recommend using Madras curry powder to give the noodles that strongly spiced flavour.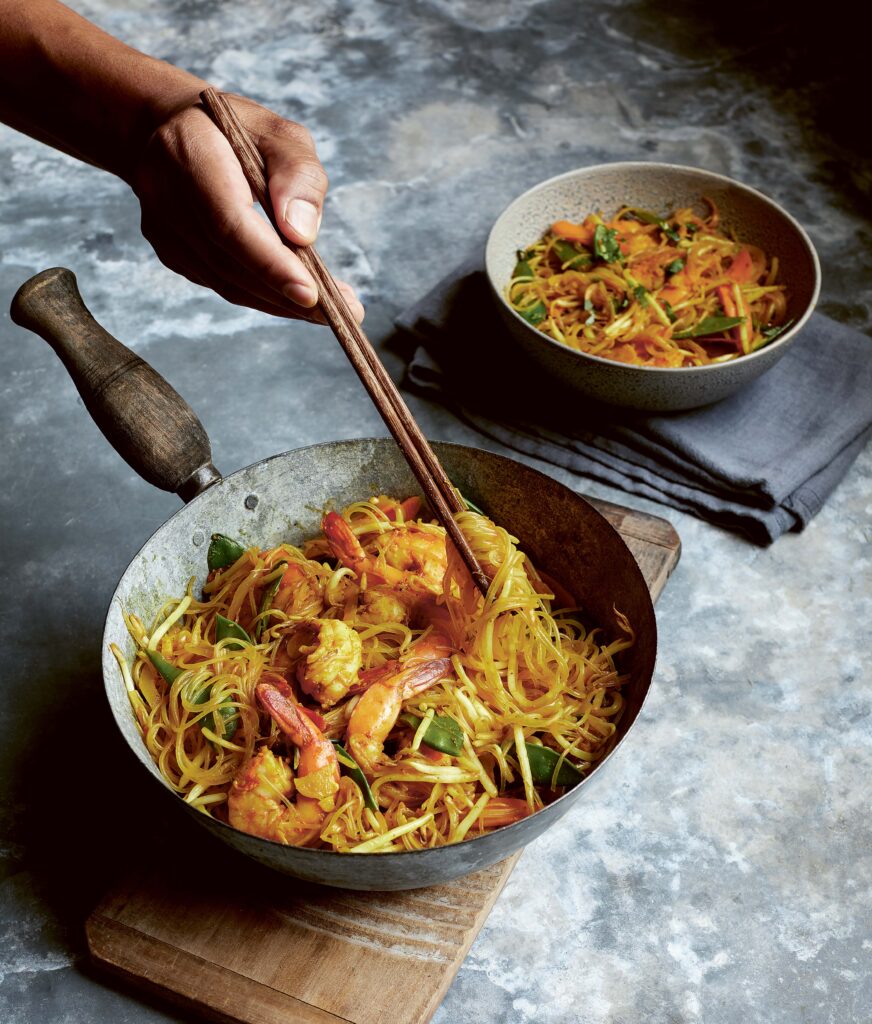 SERVES 4

200g/7oz vermicelli rice noodles
1 tbsp vegetable oil
1 medium onion, halved and thinly sliced
3 garlic cloves, thinly sliced
1 carrot, cut lengthways and sliced diagonally
125g/4½oz mangetout, both ends trimmed
20 raw king prawns, shelled and deveined, but tails left on
200g/7oz bean sprouts
1 spring onion, cut into thin strips and soaked in cold water until curled, the drained
1 red chilli, deseeded and thinly sliced
2 tbsp shop-bought crispy fried shallots (optional)
FOR THE SEASONING
1½ tbsp Madras curry powder
1 tsp ground turmeric
1 tsp fine sea salt
2 tsp white sugar
3 tbsp light soy sauce
Prepare the noodles according to the packet instructions; drain and set aside.
In a small bowl, mix the seasoning ingredients with 2 tablespoons of water and stir well.
Heat the oil in a wok or large frying pan over a medium-high heat. Stir in the onion and garlic and cook for 1 minute. Add the carrot and mangetout, and continue to cook for 2 minutes. Add the prawns and seasoning mixture, cook for 1 minute, then add the noodles and cook for 2 minutes. Next, add the bean sprouts and cook for 1 minute.
Turn off the heat, divide the noodle mixture between four serving bowls and garnish with the spring onion, chilli and crispy fried shallots, if using.
Recipe from Bowlful by Norman Musa, out now.
Photograph by Luke J Albert