Festive season is officially upon us, and what better way to celebrate than with this scrumptious yule log recipe from Celebrity MasterChef finalist Joe Swash's new cookbook, Joe's Kitchen.
When I was little, I was easily put off some foods by the name – I didn't like the idea of cheesecake or mince pies. They didn't sound right to me. But a yule log had everything I liked – sponge, chocolate, cream. I'd eat that. We always used to go to my nanny Betty's on Christmas Eve, and it was almost as exciting as Christmas. There'd be a big party and some presents and she'd do loads of food, including yule log. We used to love it and I make it now to bring back those great memories.
MAKES 12 SLICES
HONEYCOMB (Or use ready-made – I like Crunchie Bars)
Oil, for greaisng
175g caster sugar
50g golden syrup
25g honey
Pinch of salt
1 tsp bicarbonate of soda
GANACHE ICING
300ml double cream
150g dark chocolate, broken up
100g milk chocolate, broken up
SPONGE
Oil, for greasing
4 large eggs, separated
100g caster sugar
50g self-raising flour
35g cocoa powder
FILLING
200ml double cream
75g honeycomb
4 tbsp jam (black or sour cherry, or apricot)
TO DECORATE
Shards of honeycomb
Any Christmassy decorations, such as edible gold stars
First get the honeycomb started, if making your own. Lightly oil a shallow, 1-litre dish and line it with baking paper. Put the sugar, golden syrup and honey in a medium saucepan with a pinch of salt and 50ml of water.
Slowly heat until everything has dissolved, then continue to cook, stirring regularly, until the mixture has turned a rich golden brown – it should read 149–150°C on a thermometer.
Remove the pan from the heat and whisk in the bicarbonate of soda. Be prepared for it to foam up. Quickly pour it into your prepared dish. Do not touch it once you have poured it out, as this might make it deflate. Leave to cool and harden for at least 2 hours. Break up into large chunks or shards.
Next, make the ganache. Put the cream and chocolate in a heatproof bowl and place it over a pan of simmering water. Heat, stirring regularly, until the chocolate has completely melted and combined with the cream – it should start to thicken. Pour into a container and leave to cool. Transfer to the fridge to chill.
For the sponge, grease a 33 x 23cm Swiss roll tin with a little oil and line it with baking paper. Preheat your oven to 180°C/160°C fan/gas 4.
Put the egg yolks and sugar in a bowl and whisk until the mixture is thick and foamy. You should be able to make a trail across the surface with the whisk and it will hold for a few seconds. In a separate bowl, whisk the egg whites to the stiff peak stage.
Sieve the flour and cocoa together into the egg yolk and sugar mixture. Carefully fold them in until you have no streaks, and the mixture is a deep brown. Take a couple of spoonfuls of the egg whites and fold them into the mixture to help loosen it a bit, then add the remainder and gently fold in until there are no streaks.
Scrape the batter into the prepared tin and smooth over the top to make sure it is even. Bake in the oven for 8–10 minutes, checking after 8 minutes. Be careful not to overcook as if the sponge dries out it will be harder to roll.
Remove from the oven. Carefully remove the cake from the tin and upturn it onto a fresh piece of baking paper. Peel off the paper from the underside of the cake. Cover with a tea towel and leave to stand for 5 minutes.
Roll up the cake, still in the baking paper. It rolls better while still a little warm and it will be less likely to crack when you re-roll later.
Whisk the cream for the filling until thick and quite stiff. Stir in the honeycomb.
Unroll the sponge and spread it with jam. Add the cream, spreading as evenly as you can – this is best done with a palette knife. Roll up the sponge again, making sure it isn't so tight that the cream oozes out.
Remove the ganache from the fridge. If it is still very soft, put it in the freezer for 5–10 minutes, then beat to loosen it up a bit. Spread it over the sponge, then chill. Remove from the fridge and make lines along the logs with a cocktail stick or tip of a knife to make it look like bark. Add shards of honeycomb and any other decorations you like.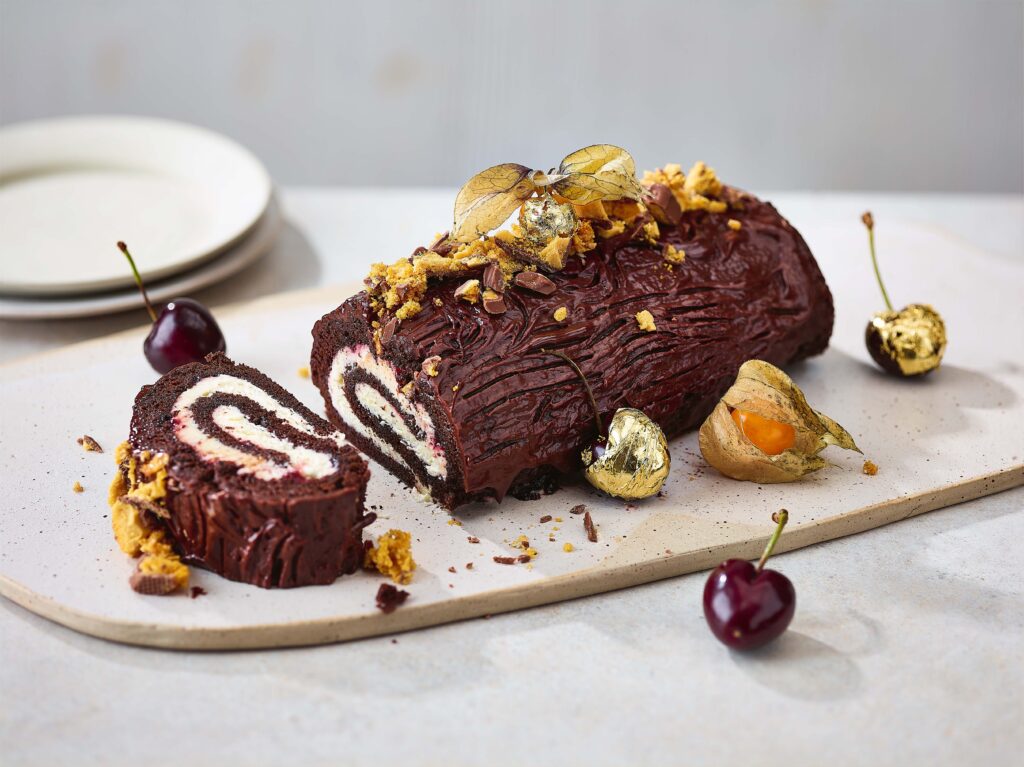 Order Joe's Kitchen by Joe Swash here.