It's not just fireworks that will go bang this weekend. Pop some bangers in the oven too this Bonfire Night, with this crowd-pleasing Toad in the Hole recipe from Celebrity MasterChef finalist Joe Swash's new cookbook, Joe's Kitchen.
My dad loved the good old British classics. He didn't cook that often but when he did, toad in the hole was one of his favourites. It was one of the first dishes I learned to cook and something I still make to this day. My kids love it and I sneak in some leeks for a bit of extra veg.
SERVES 4
25g butter
3 leeks, sliced into rounds
1 tbsp olive oil or beef dripping
8 large sausages
Salt
BATTER
150g plain flour
2 eggs
275ml whole milk

TO SERVE
Onion gravy
Begin by making the batter. Put the flour in a bowl with a generous pinch of salt and whisk thoroughly to get rid of any lumps.
Crack the eggs into the bowl. Using a whisk, gradually work the flour into the eggs until you have a thick paste. Then gradually add the milk to make a smooth thick batter that's about the consistency of double cream. If you prefer, you can make the batter by just putting all the ingredients into a food processor or blender and blitzing. Whichever method you use, leave the batter to stand for 1 hour before using.
Now, prepare the leeks. Melt the butter in a frying pan that has a lid. Add the leeks and stir to coat them with the butter. Add a splash of water and a generous pinch of salt, then cover the pan and leave the leeks to cook over a very gentle heat until they are tender.
Preheat the oven to 180°C/160°C fan/gas 4. Put the olive oil or beef dripping in a large roasting tin. If using beef dripping, put the tin in the oven for a couple of minutes to melt the fat.
Add the sausages to the tin and roll them around in the oil or fat so they are coated all over. Cook them in the oven for 20 minutes, giving them a shake every so often, until browned nicely browned.
Add the leeks to the sausages and make sure they are evenly spread over the tin. Turn up the oven to 200°C/180°C fan/gas 6.
Pour the batter around the sausages and check again to make sure the sausages are evenly spread out. Put the tin back in the oven and bake for about 30 minutes until the batter is well risen and has turned a rich dark golden brown. Serve with onion gravy (see page 270).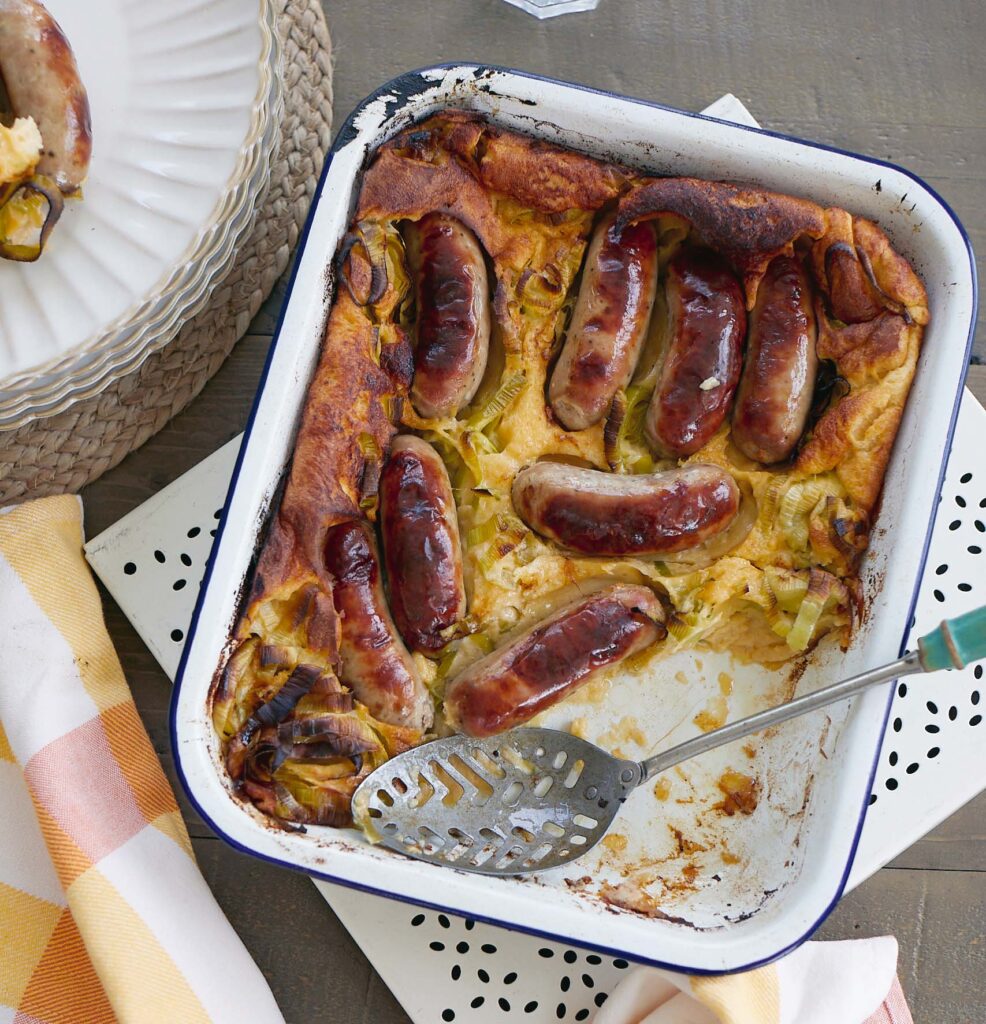 Order Joe's Kitchen by Joe Swash here.