Join us in celebrating the publication of Kim-Julie Hansen's new cookbook Best of Vegan, and make your weekend breakfasts all the more scrumptious and interesting with this delicious tofu and veggie breakfast wrap recipe!
If you don't love tofu, you probably just haven't found the right way to prepare it yet! Grating or scrambling tofu and then cooking it with veggies and spices can be both flavourful and very filling given tofu's high protein content. Feel free to customize this recipe to your liking.
Yield: 4 servings/wraps
1 tablespoon olive oil
225g (8 ounces) extra-firm tofu, pressed
1 small onion, diced
1 small sweet potato, peeled and diced, about 187g (11/2 cups)
100g (1 cup) mushrooms of choice, thinly sliced 1 green or red pepper, chopped
2 spring onions, chopped
2 garlic cloves, minced
1 teaspoon turmeric powder 1 teaspoon paprika
1 teaspoon ground cumin
1 teaspoon dried thyme
1/4 teaspoon chilli powder (optional)
1 pinch cayenne pepper or chilli flakes (optional)
1/2 to 3/4 teaspoon sea salt or celery salt, or to taste
1/2 to 1 teaspoon kala namak (black salt), or to taste
60g (2 packed cups) baby spinach, or chopped kale Juice of 1 lime (about 2 tablespoons), or to taste 2 tablespoons nutritional yeast (optional)
120ml (1/2 cup) water
TO SERVE
4 medium tortilla wraps, gluten-free if desired
1 avocado, peeled, pitted and cubed
115g (½ cup) cherry tomatoes, halved
1/2 handful of fresh coriander
Your favourite vegan dip or sauce
In a large non-stick pan, warm the olive oil over a medium heat. Add the onion, sweet potato, mushrooms, pepper, spring onions and garlic and sauté for 10 minutes. Stir in the spices at the 5-minute mark (see Notes).
In the meantime, grate the tofu using a cheese grater, or crumble it in a bowl using a fork or your hands.
Add the tofu to the pan and cook for 10 minutes, or until the diced sweet potato is tender, gradually adding the water while cooking mixing in the spinach, lime juice and nutritional yeast towards the end.
Heat the wraps in a small frying pan if desired. Fill them with the tofu mix, avocado, tomatoes and coriander.
Fold up and enjoy with your favourite vegan dip or sauce.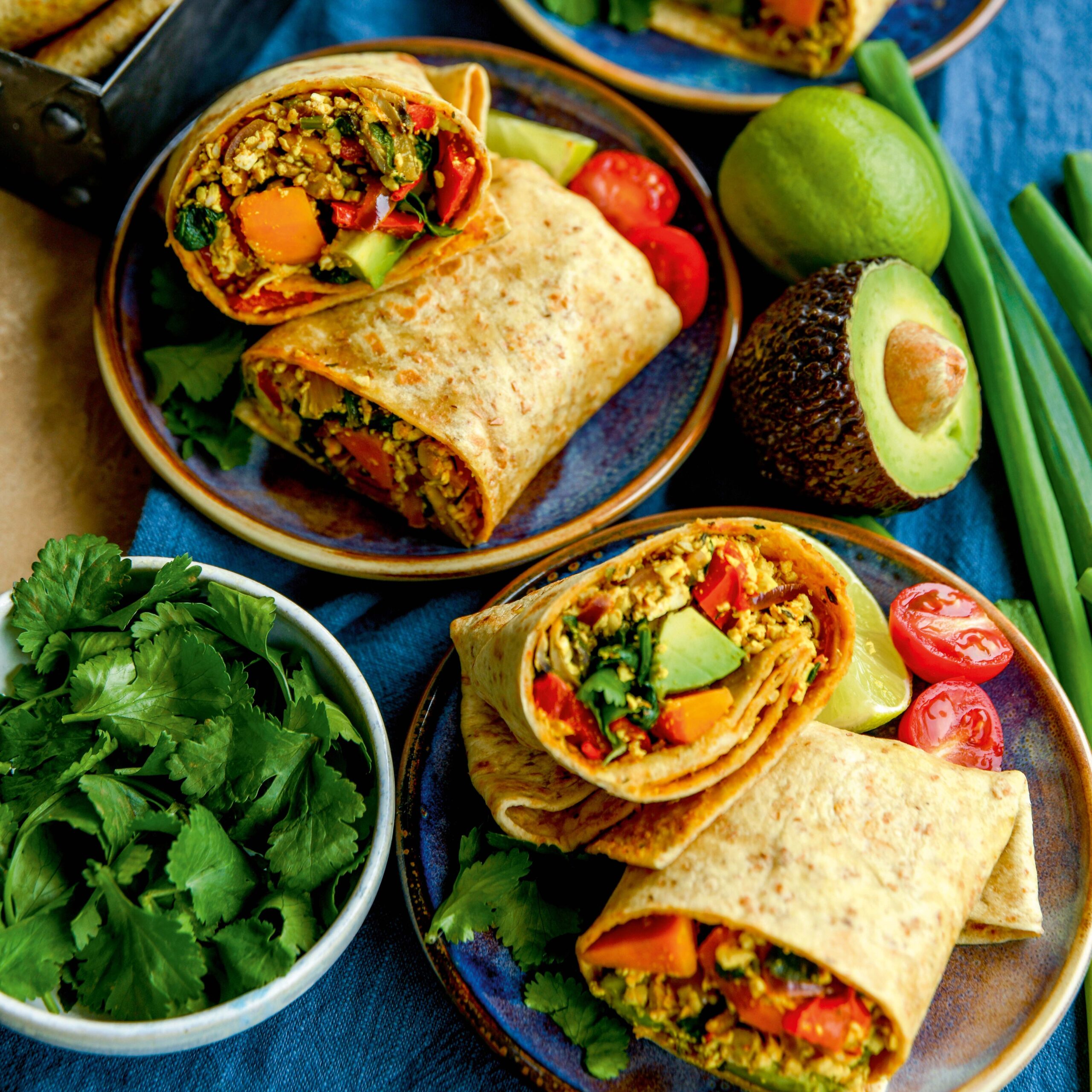 Order Best of Vegan by Kim-Julie Hansen here.