Happy Cinco de Mayo! And what better way to celebrate than with these brilliant Mexican-inspired recipes? Whether you're looking for the perfect shareable taco bar or some street food quesadillas, we have got you covered!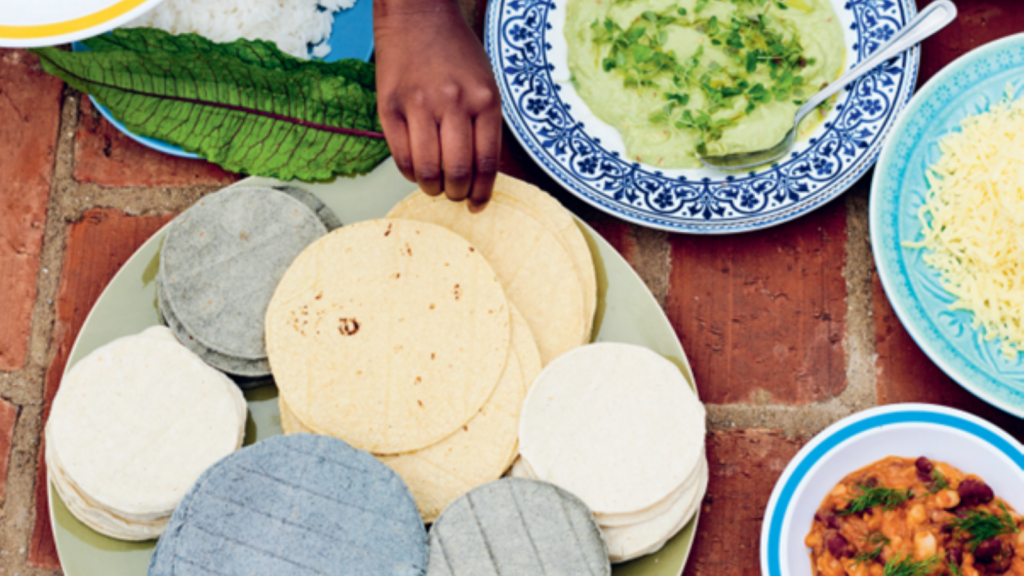 FEEDS 6
INGREDIENTS
2 tablespoons olive oil
1 onion, peeled and diced
1 teaspoon garlic powder
1 teaspoon cayenne pepper
1 teaspoon ground coriander
1 teaspoon ground cumin
1 x 400g/14oz can kidney beans, drained
1 x 400g/14oz can cannellini beans, drained
1 x 400g/14oz can chopped tomatoes
300g/10½oz brown basmati rice
TO SERVE
160g/5¾oz mangetout, finely shredded
200g/7oz sweetcorn (canned, or frozen and defrosted)
160g/5¾oz Cheddar, grated
Guacamole, optional
1 packet of soft corn tortillas
METHOD
Preheat the oven to 200°C fan/220°C/425°F/gas mark 7. To make the beans, heat the oil in a (flameproof) casserole or other heavy-based pan (for which you have a lid) over a medium heat and, when hot, cook the onion until soft and translucent, around 10 minutes. Add the garlic powder, cayenne, coriander and cumin and stir well.
Tip in the drained beans and chopped tomatoes, stir well and bring to the boil. When it comes to the boil, pop a lid on and transfer to the oven for 25–30 minutes, until the mixture has reduced and the beans are very soft.
Cook the rice according to the instructions on p. 27.
Place the beans, rice, mangetout, sweetcorn, cheese, guacamole and tortillas all in separate bowls in the middle of the table and let the children build their own meal.
Feed Your Family by Nicole Pisani & Joanna Weinberg is out now. Order your copy.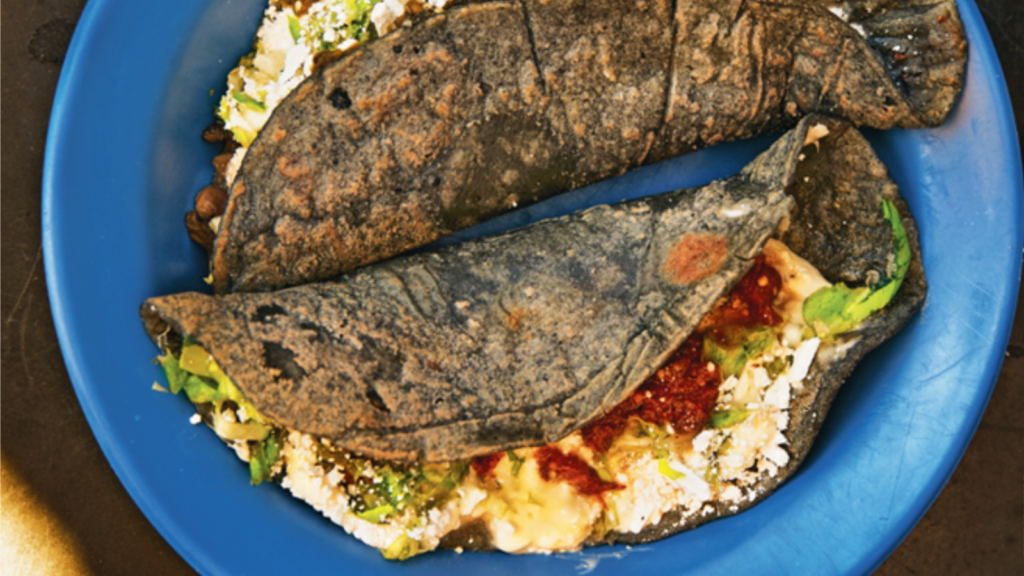 QUESADILLAS, featured in Taco Loco by Jonas Cramby
What we think of as a quesadilla – two wheat tortillas filled with cheese and ham and sliced into triangles – is called a 'sincronizada' in Mexico and is a kind of Latin American croque monsieur that's mostly served to tourists. In fact, a proper quesadilla doesn't have to contain cheese, and the word only really refers to a tortilla folded into a half-moon shape. That being said, we all love melted cheese, so it would seem remiss to skip it altogether, wouldn't it?
QUESADILLA CLÁSICO
Serves 4
INGRIDIENTS
queso Oaxaca or mozzarella
4 tortillas of your choice
Iceberg lettuce filling of your choice (see below)
Queso fresco or crumbly goat's cheese
Salt
TO SERVE
Salsa of your choice
METHOD
Grate the cheese over a tortilla and shred the iceberg lettuce finely. Have a little rummage in the refrigerator to find a suitable filling or keep it simple and just go with cheese. Season with a little salt. Fold the tortilla in half and fry in a dry frying pan on medium heat for about 2 minutes until the cheese has melted and the tortilla is crisp. Before serving, unfold the tortilla, add a spoonful of salsa and fold it again. Eat and be merry.
Taco Loco by Jonas Cramby is out now. Order your copy.