Stagioni by Olivia Cavalli is a beautiful cookbook that celebrates seasonal cooking, Italian style.
Stagioni, meaning 'seasons' in Italian, takes you on a journey through the culinary year with recipes for every craving and occasion. Chef and food writer Olivia Cavalli brings together traditional recipes and contemporary creations with an enthusiastic aim to put the best produce of each moment centre stage.

From refreshing summer salads to steaming bowls of wintery pasta, you'll find classics such as aubergine parmigiana, stuffed tomatoes and amaretti peaches alongside more unusual combinations of chestnut gnocchi, grape focaccia and courgette cake. The occasional addition of meat and fish enhances rather than dominates, although recipes can easily be adapted for vegetarians and flexitarians, making these dishes fit seamlessly into a modern way of eating.

Whether you're looking for a simple solo supper or cooking for a hungry crowd, this collection of colourful recipes will guide you from cosy winter evenings into the dappled sunlight of summer, drawing inspiration from Italy's beautiful seasonal produce along the way.
As the days are getting shorter and colder, here are a couple of recipes from Stagioni by Olivia Cavalli to enjoy.
Soft Polenta with Roast Delica Pumpkin
Delica pumpkin is the queen of pumpkins – dense, buttery and sweet, almost like chestnuts or sweet potato – and it caramelizes beautifully. The skin is lovely too. A traditional way to serve soft polenta is on a big wooden board in the middle of the table with everyone serving themselves. If you have a board large enough, give it a go.
SERVES 4-6
FOR THE DELICA PUMPKIN
Rapeseed oil or olive oil
1 Delica or Kabocha pumpkin
800g–1kg/1lb 12oz–2lb 4oz
A couple of sprigs of thyme
Handful of sage leaves
Fine salt
FOR THE SOFT POLENTA
600ml/1 pint whole milk
600ml/1 pint water
10g/⅓oz salt + more to taste
200g/7oz coarse polenta
50g/1¾oz salted butter
50g/1¾oz Parmesan, finely grated

TO SERVE
Large handful of parsley, finely chopped (optional)
Approx. 60g/2¼oz toasted hazelnuts, roughly chopped
Extra virgin olive oil
Parmesan or Gorgonzola
Preheat the oven to 190°C fan. Line a baking tray with foil and brush with oil. Rinse the pumpkin, then slice into wedges approx. 2–3cm/1in and remove the seeds and pith. Rub the slices all over with oil and season with salt. Arrange the wedges on the prepared tray on their sides in one layer. Toss the herbs with oil in a small bowl then scatter them over the pumpkin. Cook in the oven for around 60–75 minutes, until the pumpkin is soft and the edges have caramelized nicely.

Meanwhile, cook the polenta. Pour the milk into a large saucepan and add the measured water and fine salt. Bring to the boil then pour in the polenta in a steady stream, whisking with a balloon whisk for a couple of minutes until it starts to thicken. Turn the heat down to mediumlow and cook for around 40 minutes, whisking every five minutes or so. You're looking for a smooth, flowing consistency – I usually add another 100ml/3½fl oz milk at the end of the cooking time to loosen it a little. Add the butter at the end of the cooking time, whisking it through until it's melted. Turn the heat off and add the Parmesan, whisking until it's melted in the residual heat. Add more salt to taste.

Pour the polenta onto a large wooden board, a large serving platter or divide between warm bowls. Top with the roasted pumpkin and scatter with the chopped parsley and hazelnuts. Drizzle with extra virgin olive oil and finish by grating or crumbling more cheese over everything. Serve immediately, while still hot.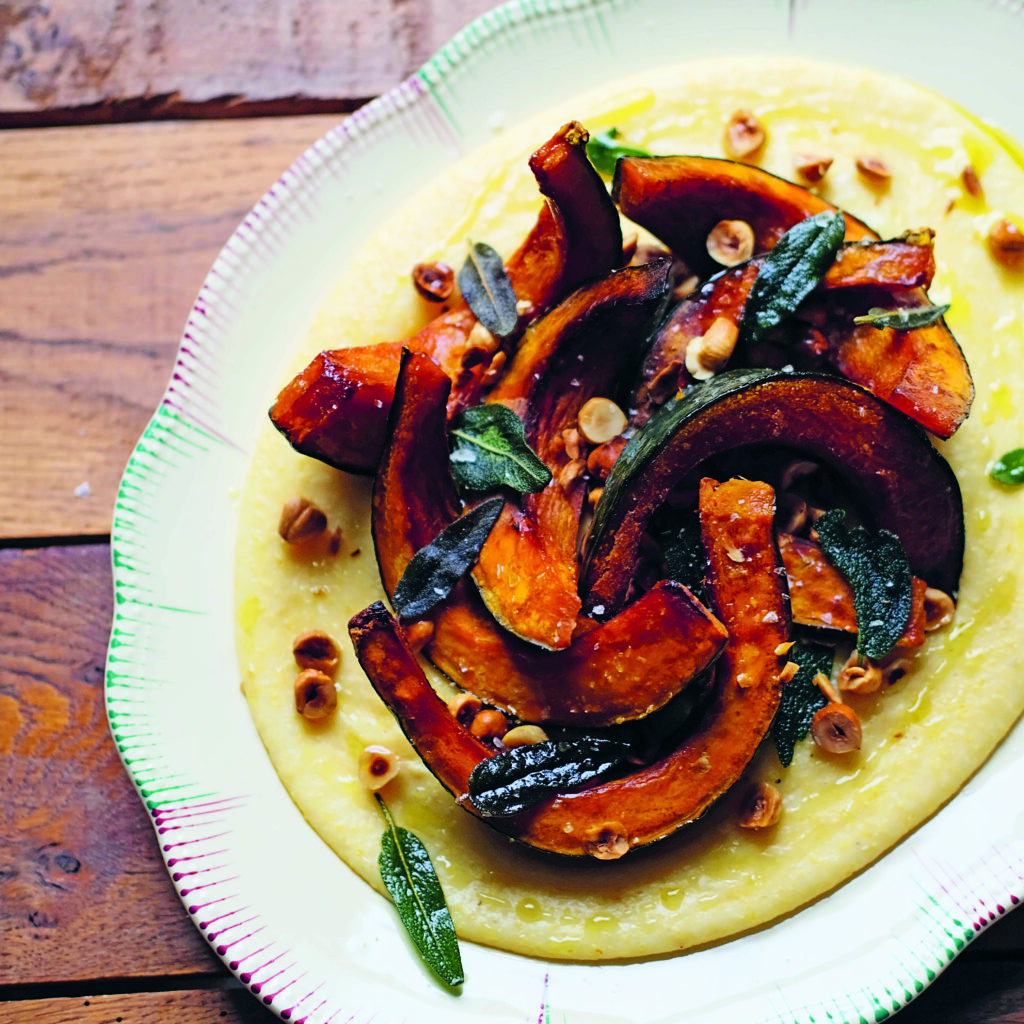 Baked Ribollita
This is said to have originally been made by farmers. They would cook it in huge batches and reboil – hence the name – whenever they needed something to warm them up and fill their stomachs. Baking ribollita is something I thought of after I ate one near Montalcino. It was a freezing January day and we packed into a tiny restaurant on top of a hill, rubbing our hands as we huddled round the table. The ribollita was served in individual ceramic pots, the top bubbling with cheese. It was thick and dense, rich and comforting, and warmed you right through. You can, of course, skip the baking stage and eat it the traditional way: re-boiled and drizzled liberally with extra virgin olive oil. Cheese is not traditional, but always welcome.
SERVES 4
Approx. 250g/9oz cooked Cannellini beans
Extra virgin olive oil
1 onion, finely chopped
2 carrots, finely chopped
2 celery sticks, finely chopped
2 garlic cloves, very finely chopped
Pinch of chilli flakes (optional)
100g/3½oz cavolo nero, stems removed and leaves shredded
160g/5¾oz Savoy cabbage, shredded
200g/7oz potato, peeled and cut into small cubes
1 heaped tbsp tomato purée
1 litre/1¾ pints water
2 bay leaves
Blend half of the beans with a splash of water (about 3 tbsp). Set aside.

Cover the base of a heavy-based saucepan with extra virgin olive oil. Add the onion, carrots and celery, with a pinch of salt. Stir so everything is glistening in oil and set over a medium-low heat. Cook with the lid ajar for 15–20 minutes until soft and translucent, stirring every so often. Add the garlic and chilli, if using, and stir for a minute or so to avoid burning.

Add the cavolo nero, cabbage, potato, tomato purée, beans (and bean purée). Pour in the measured water and add 1–2 tsp salt. Stir, bring to the boil, then reduce the heat to a simmer. Add the bay leaves and rest the rosemary on top (so it flavours without the needles getting in the soup). Leave to cook for around 30 minutes, until the vegetables are soft.

Discard the rosemary and add the bread. Stir so that it's covered in the soup and leave to cook for a further 10 minutes. You should have a thick mush with all the ingredients melding together. Taste for seasoning, adding more salt if needed. Leave to cool and sit for a few hours, preferably overnight. If leaving longer than 8 hours or so, refrigerate until ready to use.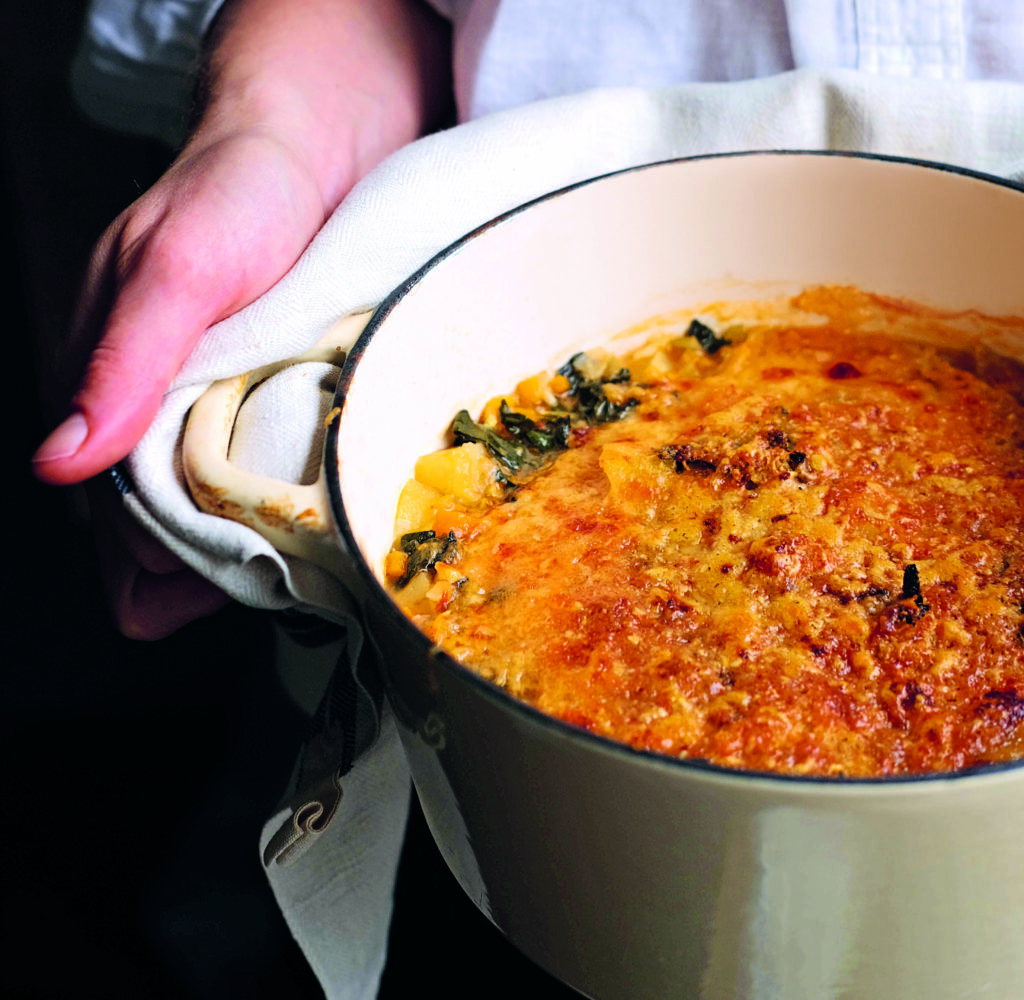 Order Stagioni by Olivia Cavalli here.