Celebrate the publication of Veganistan by Sally Butcher with us and try your hands at this delicious celeriac steak recipe from the book, perfect for everyday dinners for practised vegans as well as those attempting Veganuary.
Celeriac and celery have been grown across the Middle East and the Mediterranean for millennia, the former being especially popular in North Africa. This is such a very, very tasty dish – but then I am a celeriac lover. And I could eat the sauce with pretty much anything.
SERVES 2
1 medium celeriac, scrubbed, fluffy rooty bits removed, but not peeled
3 tbsp non-virgin olive oil
1/2 tsp coase sea salt
1/2 tsp coarsely ground black pepper
2 garlic cloves, minced
1 sprig of thyme (or 1 tsp dried thyme)
FOR THE SAUCE
Big knob of vegan butter, plus a splash of oil
1 shallot, finely chopped
1 garlic clove, minced
Around 10 black pitted olives, sliced
Around 40g / 1.5 oz capers (either salted or drained, pickled ones)
1 tsp grainy mustard
Juice of 1/2 lemon
1 sprig of fresh tarragon (or a pinch of dried)
1/4 tsp saffron strands, ground then steeped in 1 tbsp boiling water
50ml / 2 fl oz dry white wine (or use sour grape juice)
Preheat the oven to 190C / 375F / gas mark 5
Slice the celeriac horizontally into 1.5cm / 5/8in-thich steaks (you should end up with 4-6 of them). Place the oil in a bowl and mix it with the seasoning, garlic and thyme before rubbing it all over the steaks. Arrange the celeriac on a flat oven tray and cover it with foil before baking it for around 35 minutes or until tender.
Next, for the sauce. Melt the butter and oil in a frying pan and fry off the shallots and garlics. Add the olives and capers, stirring well, followed by the mustard, lemon and tarragon. After a couple of minutes, throw in the saffron water and wine and allow it to come to the boil.
Pour the caper sauce over the steaks: serve with chips and mushrooms for that proper steak experience, or just with bread and salad for a healthy supper.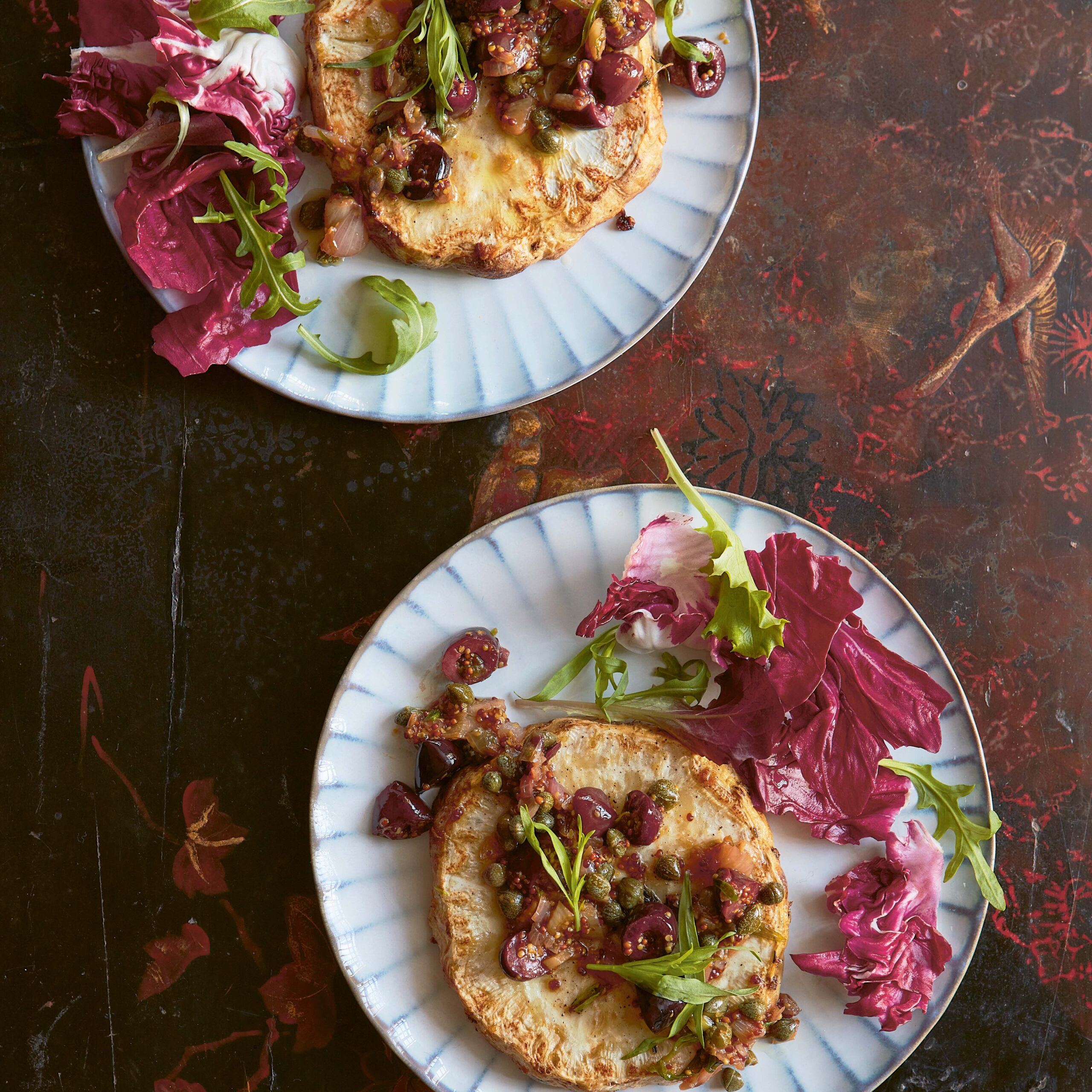 Order Veganistan by Sally Butcher here.