To celebrate the publication of Rustle Up by Rhiannon Batten & Laura Rowe, below are two delicious recipes for you to try before you buy, guaranteed to satisfy your cravings but leave you hungry for more.
CHILLI AND COCONUT KEDGEREE
We love fish for breakfast, as anyone who has witnessed us avidly ordering grilled kippers or smoked haddock from a hotel breakfast menu will testify. With spice as well as fish, kedgeree makes a great, taste bud-waking brunch dish.
SERVES 4 | 35 MINUTES
Heat 1 tbsp vegetable oil in a large pan and add 1 onion and 1 green chilli, both finely chopped. Cook over a medium heat for 5–10 minutes, or until the onion has softened, then add a thumb of finely diced ginger, ½ tbsp garam masala and 1 tsp ground turmeric. Stir, cook for another minute, then add 200g basmati rice. Add
1 x 400ml can coconut milk and 200ml vegetable stock, stir, bring to a simmer then cover and let it bubble for 15 minutes or until the rice has cooked. Meanwhile, boil 2 eggs for 6½ minutes then plunge into cold water, peel and quarter. Stir 150g frozen peas into the cooked rice and warm through, then scatter 150–200g flaked mixed hot-smoked fish through the rice, season and serve topped with chopped curly parsley and the quartered eggs. Stir the juice of 1 lemon through 150g plain yogurt with a good pinch of salt and spoon it onto the side.
TWIST: Try stirring 1 tbsp of lime pickle through the yogurt instead of the lemon juice, or swapping mixed hot-smoked fish for cooked, smoked fish.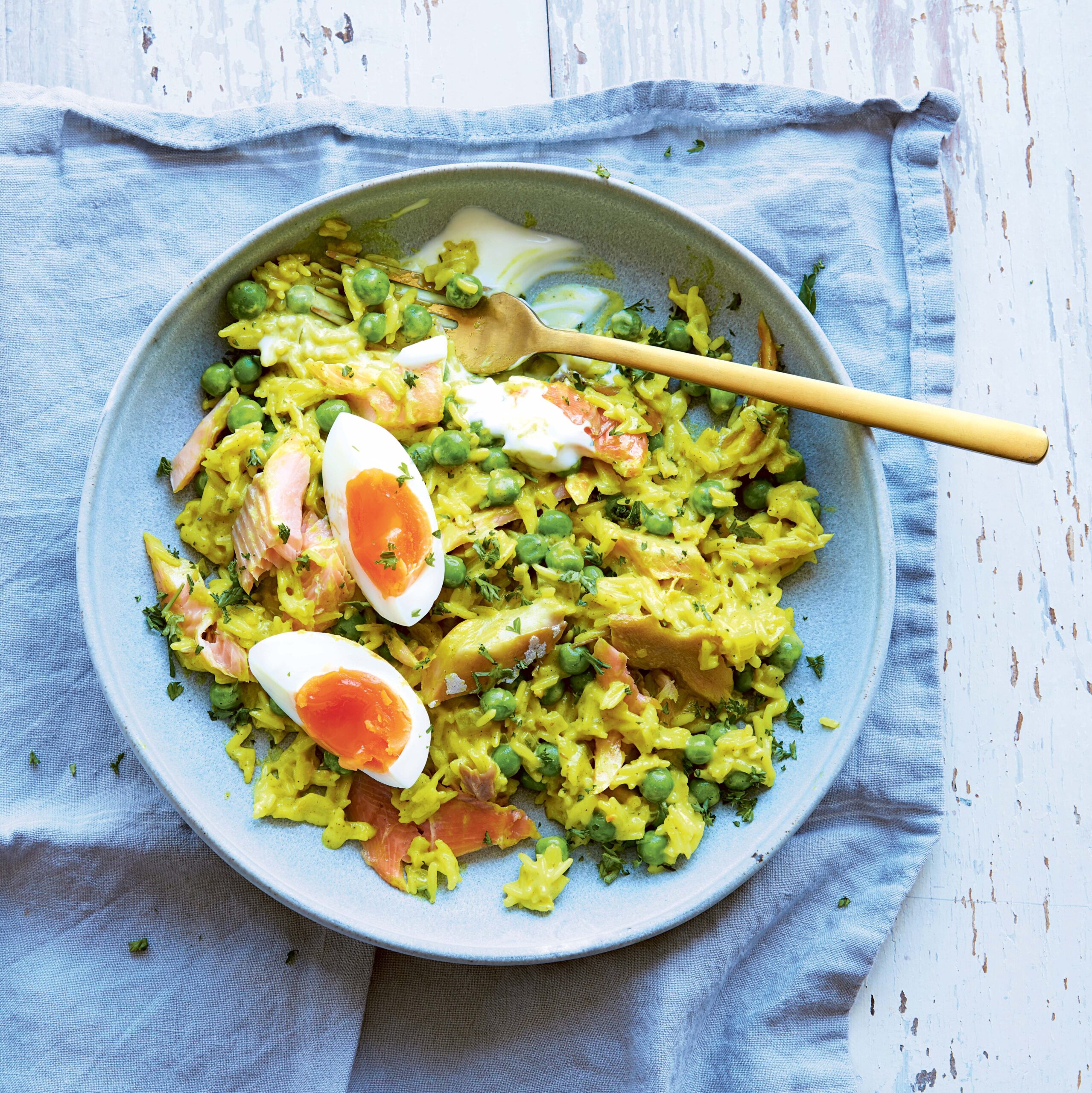 RUBY TUESDAY
A jewel of a dish, with an intense, romesco-style beetroot sauce, this is great for adding a bit of brightness to midweek mealtimes, and for using up whatever's in the veg box at the end of the week. For variety, try golden or candy beetroot.
SERVES 4 | 35 MINUTES
Heat the oven to 170°C fan/190°C/375°F/gas mark 5. Chop 2 red onions, 2 beetroot and 4 red potatoes (all unpeeled except the onion) into quarters and tip into a baking tin along with 8 whole baby carrots. Drizzle with olive oil, a handful of thyme leaves and season, then mix. Spread the veg out into a single layer and roast for 25 minutes. Meanwhile, toast a couple of handfuls of walnuts on a baking sheet for around 8 minutes and set aside. After the 25 minutes, remove the beetroot, while the other veg keep cooking. Blend the beetroot with 1 garlic clove, 200g canned chopped tomatoes, a generous pinch of salt, 2 tsp sherry vinegar, 6 of the toasted walnuts and 2 tbsp extra-virgin olive oil and blitz until smooth. Warm the sauce through and serve with the roasted vegetables, crumbling the remaining toasted walnuts and scattering a few more thyme leaves over the top.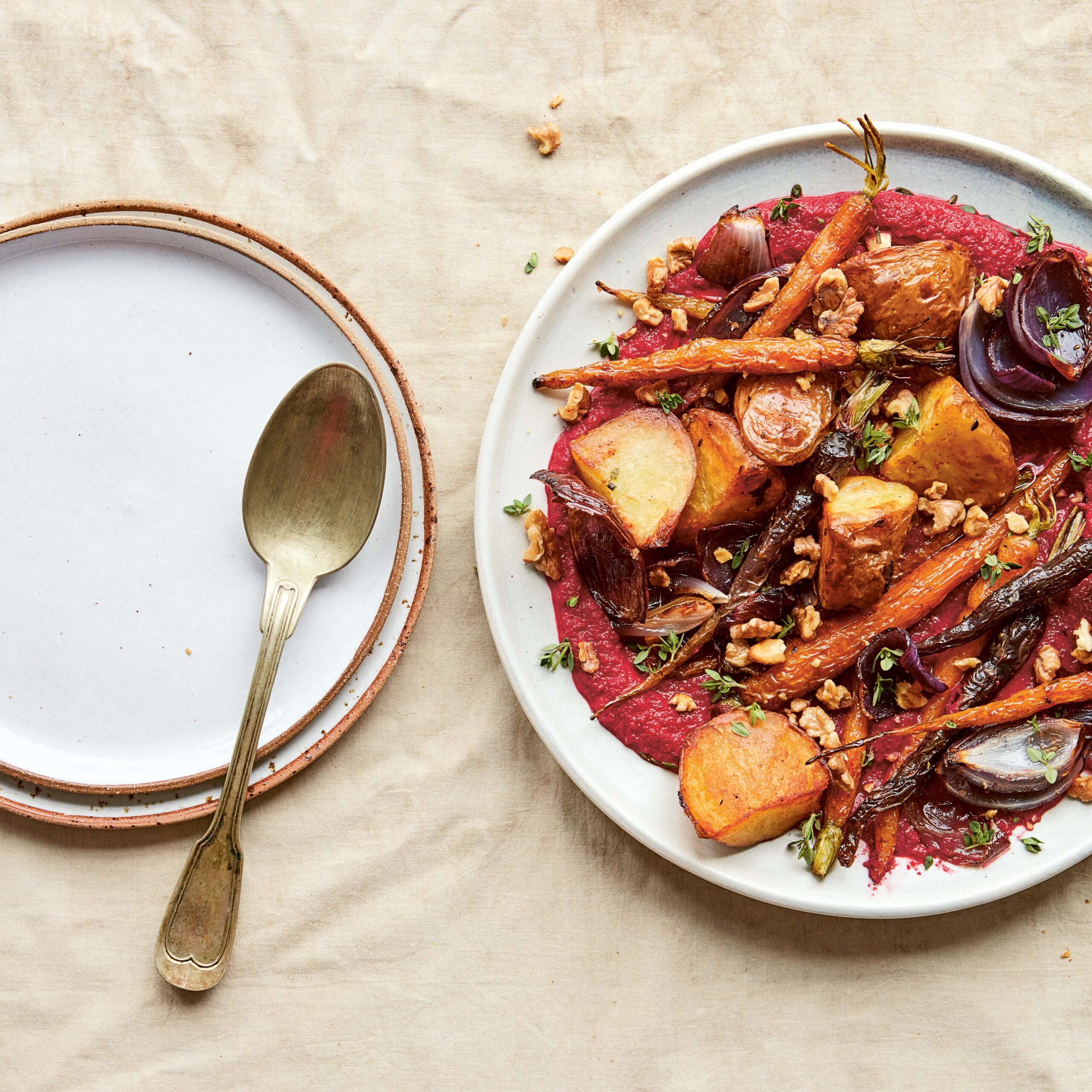 Rustle Up is out now.