Craving something sweet? We're loving these deliciously dunkable Chocolate Sandwich Biscuits from Ravneet Gill's Sugar, I Love You.
These biscuits are really great eaten on their own and even better sandwiched together with ganache; the combination of this crunchy biscuit with Malt Chocolate Ganache is a match made in baking paradise! Store in an airtight container to keep them crunchy and short long after baking.
Yield: 30 single biscuits, or 15 sandwich biscuits
FOR THE BISCUITS
80ml neutral oil
1 tbsp golden syrup
70g light brown sugar
4g/scant 1 tsp bicarbonate of soda
Small pinch of sea salt flakes
20g cocoa powder
110g plain flour
20g vegan dark chocolate, chopped into small pieces
FOR THE GANACHE
150g 70 per cent cocoa solids chocolate, chopped
50g 55 per cent cocoa solids chocolate, chopped
Pinch of sea salt flakes
300g double cream
1 tbsp malt extract (alternatively use black treacle, maple syrup or honey)
Whisk the oil and golden syrup together in a small bowl.
In a large bowl, mix together the sugar, bicarbonate of soda, salt, cocoa powder and flour. Pour in the oil and syrup and mix until a dough forms, then add in the chopped chocolate, making sure the pieces are really small, and mix well to combine.
Scoop the mixture onto a work surface lined with clingfilm or baking paper and roll into a cylinder shape, roughly 23 x 5cm (9 x 2in). Wrap the cylinder tightly in the clingfilm or baking paper and place on a tray. Refrigerate for 4 hours and then freeze for 2 hours.
When you're ready to bake, preheat the oven to 160°C fan/180°C/ gas mark 4. Line two large baking trays with baking paper.
Using a sharp knife, slice the biscuit dough into 5mm (¼in) slices and place on the prepared trays, leaving plenty of space between each.
Bake for 15 minutes until golden, then allow to cool on the trays before sandwiching with the malt chocolate ganache.
MALT CHOCOLATE GANACHE
Put both the chocolates and the salt in a large heatproof bowl.
In a saucepan, heat the cream with the malt extract until steaming but not boiling.
Pour the hot cream over the chocolate and leave for 1 minute. Use a whisk to stir the ganache from the middle outwards – so as not to whisk in any air – until silky and beautiful. Let the ganache sit for 10 minutes.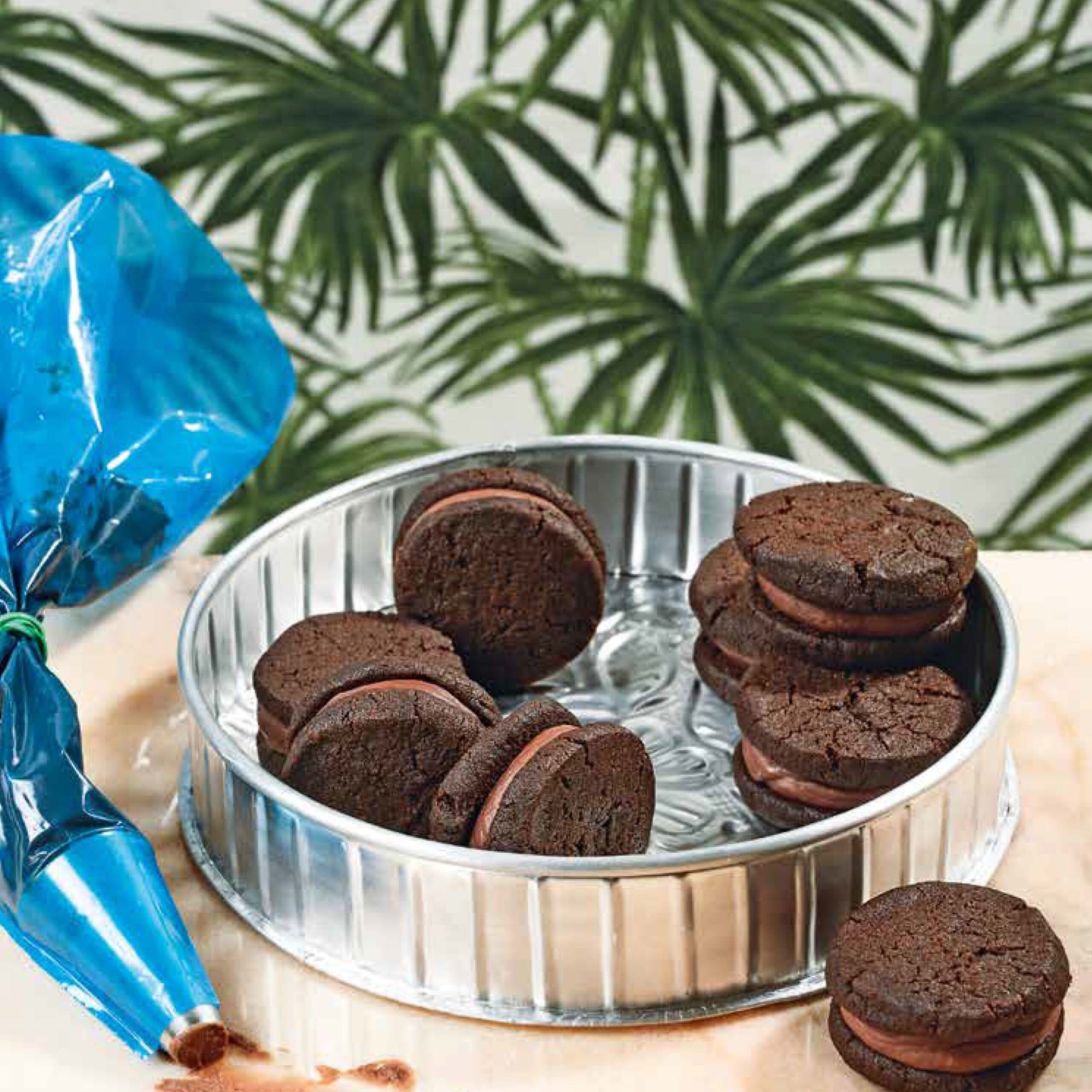 Order Sugar, I Love You by Ravneet Gill here.
Hungry for more? Take a look at this tasty Lazy Person Cake, also from Sugar, I Love You.