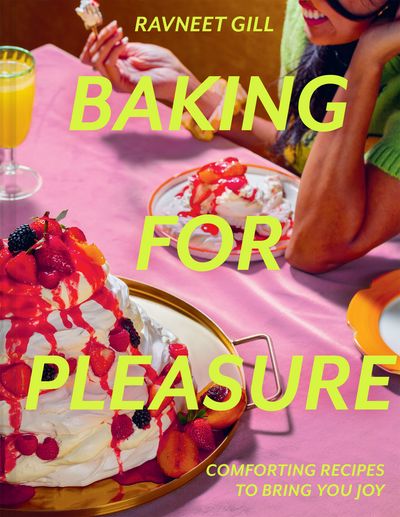 Baking for Pleasure: Comforting recipes to bring you joy
By Ravneet Gill
This book is all about baking for the pure joy of it – classic comfort bakes made with love for friends and family. Join Ravneet Gill as she reconnects with the simple pleasures that made her fall in love with baking in the first place.
From chocolate malt baked custard to the ultimate apple pie, Ravneet brings us back to basics, sharing her easiest tips for everything you need to whip up and enjoy your favourite home bakes.
Packed with more than 80 tried and tested recipes for brownies, tray bakes, cookies, tarts, puddings and cakes, these bakes will soon become your go-to family favourites. Whether it be quick batch-bakes and classic crowd-pleasers or impressive dinner-party dishes and wholesome weekend baking, you'll always be covered with the perfect bake for any occasion.
For the first time, Ravneet also includes her most sought after savoury bakes including 'nduja puff pastry sausage rolls, vegetarian samosas, and a chicken pie that will have your friends and family coming back for more.
Ravneet reminds us why we love to bake, how it brings us together, and the enjoyment that comes from creating gorgeous, moreish dishes for ourselves and our loved ones. Baking for Pleasure shows us home baking just as it should be – simple, satisfying, and a total joy.
"'Like Rav, I trained as a pastry chef and believe that patisserie can be simple and for all occasions. With this book, Rav takes us on an indulgent pleasure trip of sweet and savoury treats from the classics to unique recipes for all to enjoy." - Michel Roux Jr
"'Another beauty of a book" - Ruby Bhogal
"'I love Rav and I love her books." - Nathan Outlaw
"'Come for the cakes. Stay for the sass." - The Sunday Times
"'A euphoric state can be bought on from pudding. Ravneet's desserts are sublime, lifting the spirit to great heights!" - Fergus Henderson